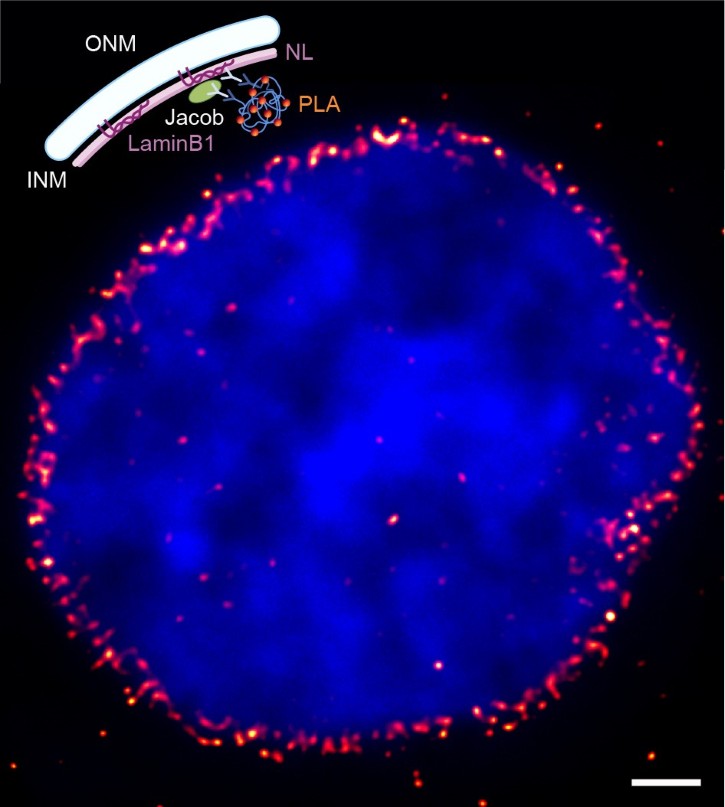 Our current featured image is taken from a recent Molecular Brain short report, "The nuclear lamina is a hub for the nuclear function of Jacob"
Senior author Dr Anna Karpova from Leibniz-Institut für Neurobiologie says "This image shows binding of the synapto-nuclear protein messenger Jacob to the inner nuclear membrane protein LaminB1 revealed by proximity ligation assay (PLA) with Duolink FarRed signals (represented based on a RedHot look-up-table), which decorate the periphery of the DAPI-stained nucleus (blue) of a DIV17 hippocampal primary neuron. To our knowledge, this is the first time that PLA and STED imaging have been combined, allowing us to resolve multiple Jacob-LaminB1 complexes along the inner nuclear membrane."
We are delighted to showcase this image, alongside the full article, in Molecular Brain.