Memory maintenance by PKMζ — an evolutionary perspective
Received: 30 July 2012
Accepted: 29 August 2012
Published: 18 September 2012
For over a century, scientists have postulated that persistent changes in the synaptic connections among neurons might maintain long-term memory [1]. Compelling experimental support for this hypothesis came from invertebrate model systems, notably Aplysia californica, in which changes in synaptic strength among identified neurons mediating behavior could be directly observed [2]. In the 1980s and early 1990s, further studies in molluscan and insect model systems lead to the discovery of several signaling molecules that initiate long-term changes in synaptic transmission and behavior, including the cAMP-dependent protein kinase (PKA) [2, 3] and the transcription factor, cAMP response element-binding protein (CREB) [4, 5], which were then shown to be crucial for memory formation in rodents and other animals [6]. Thus by 2000, much of the learning and memory field had come to believe that the molecular mechanisms of memory are evolutionarily conserved, and the keys to understanding these mechanisms were the molecules that control synaptic plasticity [7].
The form of synaptic plasticity most widely studied in mammalian systems is long-term potentiation (LTP), a persistent synaptic enhancement first characterized in detail in the hippocampus by Bliss and Lømo [8, 9]. Interest in LTP grew rapidly with the discovery that the activation of the N-methyl-D-aspartate receptor (NMDAR) triggers both hippocampal LTP induction [10] and hippocampus-dependent spatial learning [11]. Following these seminal findings, over a hundred signaling molecules downstream of the NMDA receptor were characterized [12]. Some, such as Ca2+/calmodulin-dependent protein kinase II (CaMKII), initiate a transient early-LTP [13], whereas others, like mitogen-activated protein kinase (MAPK), participate in the regulation of new protein synthesis that is crucial for the transition from early- to more persistent late-LTP [14, 15]. Because many of the signaling molecules important for LTP induction were also implicated within a brief time window of an hour after learning during the initial cellular consolidation of long-term memory, the case that an LTP-like mechanism might mediate the cellular basis of memory grew stronger.
But an essential mechanism for both LTP and long-term memory was missing — a mechanism maintaining the changes in synaptic strength and the learned behavior over time. Although scores of the signaling molecules that were activated during LTP were also found to be functionally important for inducing late-LTP, none had been found necessary for maintaining the potentiation once it had been established for 1–2 hours [12, 16]. Because inhibitors of protein synthesis applied during this initial time window blocked the induction of both late-LTP and many forms of long-term memory [17, 18], the general assumption in the field was that newly synthesized proteins were critical for the persistence of LTP and memory, most likely to serve as building blocks for new synapses. Once these new, experience-dependent synapses had been constructed, however, they could not be eliminated by any enzymatic inhibitor. Thus, in the prevailing theory, long-term memory could be prevented from forming, but could not be erased.
In 2002, however, a brain-specific, autonomously active isozyme of PKC, PKMζ, was found to be both necessary and sufficient for maintaining the late-phase of synaptic potentiation in hippocampal slices [16]. Douglas Ling, Larry Benardo, and our colleagues showed that synapses were potentiated by intracellular perfusion of PKMζ, and late-LTP was reversed by inhibiting the kinase, even when the inhibitors were applied many hours after the initial protein synthesis-dependent time window [16, 19–22]. Then in 2006, André Fenton and our colleagues showed that the PKMζ inhibitor, zeta inhibitory peptide (ZIP), which effectively blocks the action of PKMζ both biochemically in vitro and within neurons [16, 19, 23], reverses LTP in vivo 1 day after induction and disrupts spatial memory in the rat hippocampus 1 day or even 1 month after training [22]. The following year, Yadin Dudai and our colleagues began a series of studies showing both ZIP and dominant negative mutations of PKMζ disrupt long-term memory in rat neocortex, up to 3 months after training [24–26].
Subsequently, many forms of long-term memory in a wide variety of neural circuits were shown to be maintained by the persistent activity of PKMζ. In addition to different types of spatial long-term memories [27, 28], trace memories in the hippocampus [21], aversive memories in the basolateral amygdala (BLA) [27, 29–32], appetitive memories in the nucleus accumbens [33–35], habit memory in the dorsal lateral striatum [36], and elementary associations [24–26, 37], extinction [38], and skilled sensorimotor memories [39] in the neocortex were all disrupted by inhibiting PKMζ. Persistent experience-dependent enhancement of synaptic transmission in the hippocampus [21] and the primary visual cortex [40] were also erased by inhibiting PKMζ. Providing an underlying cellular basis for spatial memory erasure, recent work has shown that inhibiting PKMζ disrupts the stable firing patterns of hippocampal place cells exposed to a familiar environment [41]. After the drug has been eliminated, the same place cells establish new stable firing patterns in the familiar environment that have no relationship to the old patterns that had been erased. Some forms of memory were not erased by inhibiting PKMζ, including short-term memories mediated by the hippocampus [22] and neocortex [26], and certain long-term memories characterized by the habituation of behavioral responses, such as latent inhibition and attenuation of neophobia [24].
In addition to physiological memory storage, the persistence of several neurological and psychiatric disorders that had been hypothesized to be mediated, in part, by LTP-like changes in the neural circuitry mediating pain or reward was also found to be maintained by PKMζ in animal models. Thus, ZIP ameliorates chronic neuropathic pain when injected in the anterior cingulate cortex [42–44] and spinal cord [45–48], post-traumatic stress disorder in the insular cortex [49], and addiction in nucleus accumbens [33–35], BLA [38], hippocampus [50], and ventral tegmental nucleus [51]. Abnormal aggregations of PKMζ are also observed in and near neurofibrillary tangles in the brains of individuals with Alzheimer's disease [52].
ZIP, a cell-permeable pseudosubstrate peptide inhibitor, is the most commonly used pharmacological tool to inhibit PKMζ. ZIP applied extracellularly to neurons blocks the action of PKMζ perfused into CA1 pyramidal cells in hippocampal slices [19, 23], PKMζ transfected into primary cultured hippocampal neurons [53], and PKCζ introduced into sensory neurons [47]. The IC50 of the ability of ZIP to inhibit PKMζ-mediated potentiation of α-amino-3-hydroxy-5-methyl-4-isoxazolepropionic acid receptor (AMPAR) responses at synapses of CA1 pyramidal cells is nearly identical to the IC50 of its ability to reverse late-LTP at these synapses [19]. Because both full-length atypical PKC (aPKC) isoforms, PKCζ and PKCι/λ, contain the identical pseudosubstrate sequence, ZIP is also a standard reagent to inhibit the function of full-length aPKC within cells [54] and to identify intracellular aPKC substrates [55]. One paper had suggested ZIP at the doses used to inhibit PKMζ postsynaptically perfused into neurons was not effective on a PKMζ fusion protein overexpressed in cultured cells [56]. These negative results, however, were subsequently explained to be a consequence of using the standard doses of ZIP in overexpression systems that increase kinase levels between 1–2 orders of magnitude above normal [23]. At such high levels of overexpression, the exogenous "spare" kinase, analogous to spare receptors, far exceeds the endogenous kinase, and the standard doses of ZIP that inhibit PKMζ in neurons and reverse LTP maintenance would be expected to have no noticeable effect [23].
Extending beyond maintenance to expression, Karim Nader and our colleagues at McGill University showed that PKMζ sustained late-LTP and long-term memory by a common mechanism of synaptic enhancement. PKMζ potentiates synaptic transmission by modifying the trafficking of GluA2 subunit-containing AMPARs so as to increase the number of receptors at postsynaptic sites [
30
,
57
,
58
] (Figure
1
). Nader and our colleagues showed that blockers of GluA2 endocytosis prevent the disruption of LTP maintenance and memory storage induced by ZIP, confirming that the agent effectively inhibits PKMζ's mechanism of action both in brain slices and
in vivo
[
30
,
34
,
36
].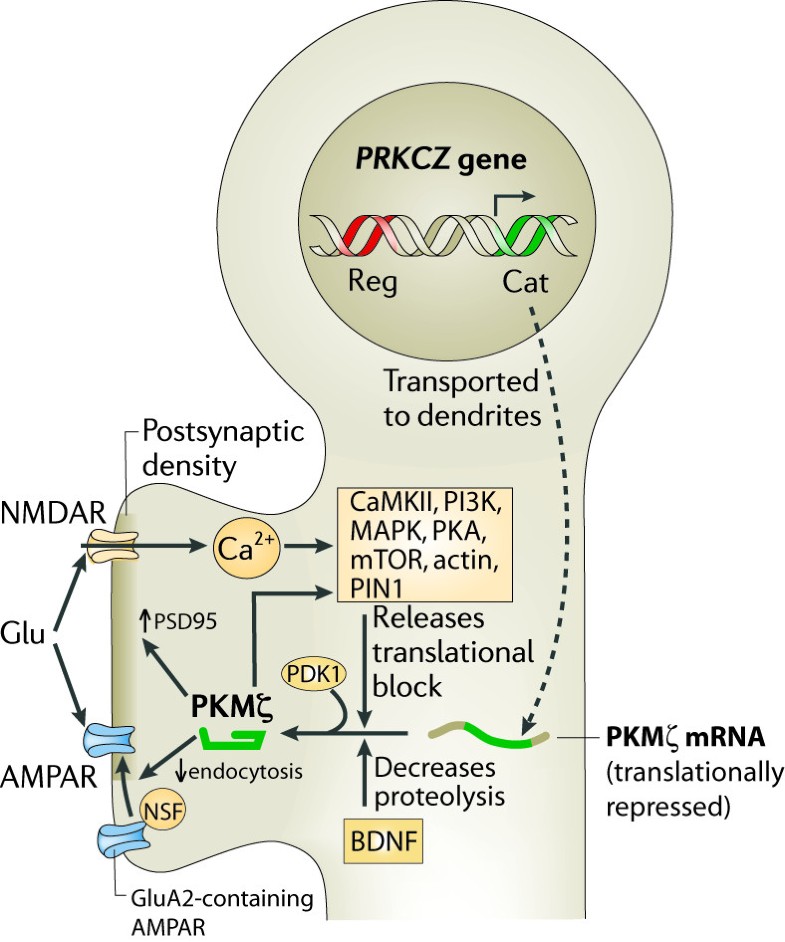 The inhibition of PKMζ persistently disrupts memory storage, rather than transiently blocking memory retrieval [22]. The half-life of intracranially injected ZIP is ~2 hours, and is cleared from the brain within a day [32], but the disruption of previously stored memory by the agent lasts far longer. After bolus injections of ZIP, LTP in vivo is eliminated for days [21] and well-established memories are eliminated for at least 1 week in hippocampus [22] and for 1 month in neocortex [24], the longest time points examined in each region. After ZIP has cleared, new memories can nonetheless be reformed and stored [22, 27, 39], and even erased a second time by ZIP [26]. These data indicate that transiently inhibiting PKMζ does not damage the hippocampus or neocortex, but specifically erases the long-term memory trace maintained by these structures.
Because the half-life of ZIP is ~2 hours [32], initial studies on the disruption of fear conditioning that had tested memory retention a day after injection of the drug into the BLA had indicated that the persistence of memory erasure in the BLA would be similar to that in hippocampus and neocortex [30]. One paper, using a dose of ZIP lower than that employed in previous studies of other brain regions, suggested that the memory loss for fear-potentiated startle was temporary [60], although see the discussions in references [61, 62]. A subsequent study of the retention of a learned active avoidance response using the standard dose of ZIP in the BLA, however, confirmed persistent amnesia for a week after drug injection [31], demonstrating that memory erasure by ZIP in the BLA was consistent with that observed in other brain regions. Interestingly, in the study that had used the low dose of ZIP, memory loss persisted when the rats were reexposed to the CS alone, a day after drug infusion [60]. Because the standard dose of ZIP erases multiple memories within a brain region, with or without CS reactivation [24], if low dose ZIP selectively disrupts the CS-US association of the specific reactivated CS, such doses of the drug might be used to erase specific memories, similar to the specific disruption of reactivated memory that is the hallmark of reconsolidation blockade [63].
(1)
Departments of Physiology, Pharmacology, and Neurology, The Robert F. Furchgott Center for Neural and Behavioral Science, State University of New York Downstate Medical Center, 450 Clarkson Ave, Brooklyn, NY, 10705, USA
© Sacktor; licensee BioMed Central Ltd. 2012
This article is published under license to BioMed Central Ltd. This is an Open Access article distributed under the terms of the Creative Commons Attribution License (http://creativecommons.org/licenses/by/2.0), which permits unrestricted use, distribution, and reproduction in any medium, provided the original work is properly cited.