Oxidative stress and cellular pathologies in Parkinson's disease
Received: 7 August 2017
Accepted: 17 November 2017
Published: 28 November 2017
Abstract
Parkinson's disease (PD) is a chronic and progressive neurodegeneration of dopamine neurons in the substantia nigra. The reason for the death of these neurons is unclear; however, studies have demonstrated the potential involvement of mitochondria, endoplasmic reticulum, α-synuclein or dopamine levels in contributing to cellular oxidative stress as well as PD symptoms. Even though those papers had separately described the individual roles of each element leading to neurodegeneration, recent publications suggest that neurodegeneration is the product of various cellular interactions. This review discusses the role of oxidative stress in mediating separate pathological events that together, ultimately result in cell death in PD. Understanding the multi-faceted relationships between these events, with oxidative stress as a common denominator underlying these processes, is needed for developing better therapeutic strategies.
Keywords
Alpha-synucleinDopamine neuronsMitochondriaOxidative stressParkinson's diseaseReactive oxygen speciesUnfolded protein response
Introduction
Parkinson's disease (PD) is the second most common neurodegenerative disorder, characterized by serious movement disturbances such as tremor, rigidity, and bradykinesia. It is a chronic condition attributed by the selective degeneration of dopamine (DA) neurons in the midbrain substantia nigra (SN). By the time patients experience these symptoms, a portion of DA neurons that project from the SN to the striatum have already degenerated [1, 2]. Appearance of insoluble inclusions in neurons called Lewy bodies, which mainly consist of α-synuclein, is a major hallmark of this disease [1]. Based on its progressive nature, it is unlikely that the disease pathogenesis is triggered by an acute toxicity that kills cells directly. Instead, it is possible that an ongoing process such as oxidation is responsible for the gradual dysfunction that manifests across myriad cellular pathways throughout the disease trajectory.
Most PD cases are sporadic, with only about 10% associated with an inherited genetic component. Even though familial cases comprise only a minor subset of the overall PD pool, examining PD-related monogenic mutations is a valuable method of understanding disease pathogenesis and cell death which may have implications for studying the disease at large. PTEN induced putative kinase 1 (PINK1), Parkin, DJ-1, leucine-rich repeat kinase 2 (LRRK2) and α-synuclein are among the proteins which have been strongly linked to the familial forms of PD [3–7]. Of these, α-synuclein is most commonly associated with PD pathogenesis for its predominance in Lewy bodies, which develop and aggregate throughout disease progression [8, 9]. PINK1 and Parkin are involved in mitochondria-related autophagy, whereas the loss of function of these proteins leads to the accumulation of damaged mitochondria [10, 11]. DJ-1 is involved in a wide range of cellular functions, two of which include its roles as a sensor for oxidative stress and as a redox-chaperone protein [12, 13]. The physiological function of LRRK2 is less understood but neurons with mutations in this protein exhibit greater vulnerability to mitochondrial toxins [14].
Reactive oxygen species (ROS) are normally produced in the cell during mitochondrial electron transfer chain (ETC) or redox reactions and are in fact a necessary component of cellular homeostasis. As an example, several enzymes in mitogen-activated protein kinase and phosphoinositide 3-kinase pathways, which are pivotal in mediating cellular responses to growth hormones and cytokines, are regulated directly by ROS [15–17]. Yet despite the importance of ROS in normal physiology, antioxidant proteins like superoxide dismutase (SOD) and glutathione (GSH) also prevent ROS levels from getting too high [18]. Failure of these antioxidants in regulating ROS levels leads to oxidative stress, which can have a variety of detrimental effects. Random oxidation of macromolecules inside the cell can damage cellular structures and even lead to cell death [19–21]. Previous publications have reported evidence of oxidative stress through the detection of oxidized DNA, lipids, and proteins in the brain tissues of both familial and sporadic PD patients [22, 23]. Since oxidative stress increases the chance of spontaneous mutations, it is possible that this can trigger mutations that make cells more vulnerable to dysfunction. Interestingly, in the SN of healthy individuals, the concentration of oxidized proteins was found to be twice that of the caudate, putamen, and the frontal cortex, indicating that susceptibility of SN to oxidative stress may contribute to the selective neuronal degeneration [24].
While many studies in the past have examined dysfunctional cellular processes in PD independently of each other, in our recent study, we sought to develop a more comprehensive understanding of the disease by examining how those processes might be interconnected [25]. Using induced pluripotent stem cell (iPSC)-derived midbrain DA neurons from patients with PINK1 or Parkin mutations, we first noted the presence of abnormal mitochondria. We also observed cytosolic α-synuclein and DA accumulation, with increased sensitivity toward oxidative stress-inducing agents, in the mutant lines [25]. Similarly, another group which had utilized LRRK2 mutant iPSC-derived neurons noted elevated expression of genes involved in oxidative stress regulation, and α-synuclein levels. Moreover, they observed cells' increased vulnerability towards H2O2, 6-hydroxydopamine (6-OHDA), and MG132, a proteasome inhibitor [26]. Together, these results reflect the idea that a single mutation can profoundly disrupt cellular homeostasis, implying that PD progression may be the result of a multitude of interactions between the various pathogenic phenotypes linked to cellular stress.
While oxidative stress has been thoroughly researched, advances in stem cell technology have engendered a wide range of tools with which to study and model diseases in vitro. As demonstrated by our study as well as many others, iPSCs have made it possible to study specific disease mutations using patient derived cells, which has been especially valuable in modeling neurodegenerative diseases which lack authentic animal models. Moreover, because PD is diagnosed only when the degeneration of midbrain DA neurons has already progressed considerably, neurons from PD patient-derived iPSCs enable researchers to carefully track even minor disturbances that precede major pathogenic processes. Based on our iPSC-based findings demonstrating the contribution of oxidative stress toward triggering dysfunctional processes, this review explores how oxidative stress may play a central role in mediating disease progression (Fig.
1
).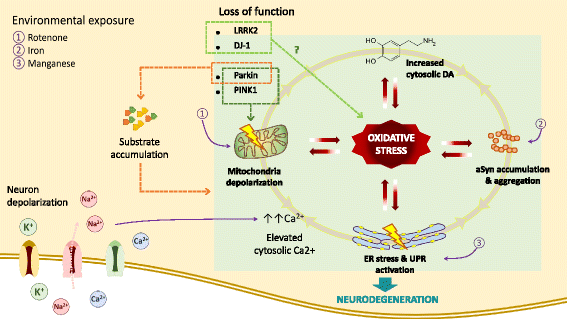 Conclusion
The mechanism of neurodegeneration in PD still remains a controversial subject. Although PD entails a wide variety of cellular phenotypes, it is possible to decipher the events involved in the disease trajectory by studying the genetic forms of PD with the hopes of extrapolating gained insights toward the sporadic, non-familial forms. Mutations in PINK1, Parkin, DJ-1, and LRRK2 result in mitochondrial perturbations and elevations in oxidative stress. Utilization of DA as a neurotransmitter renders midbrain DA neurons more prone to damage given the potential for production of oxidative and reactive byproducts in DA metabolism. Elevated ROS levels also seem to be involved in metal-exposure related toxicity suspected to cause sporadic PD. These studies hint at the idea that oxidative stress plays a central role across a variety of PD linked phenotypes. Additionally, chronic oxidative stress, beyond the load that can be adequately regulated by homeostasis, can impact macromolecules inside the cell and result in cell death [20, 119].
Considering the complexity and singularity of each PD case, a great deal of effort is required to understand general PD pathology. Collecting PD case studies is an essential step in gaining a better idea of the underlying biology and overall landscape of the disease progression. Biological events considered in this review cannot explain the full spectrum of phenotypes present in PD like pathological events that occur on an intercellular level such as neuroinflammation [120], gut microbiota homeostasis [121], or the prion-hypothesis of α-synuclein [122]; however, mounting evidence pointing to oxidative stress as a common denominator provides hope for developing a more thorough understanding that could explain the complex cellular pathologies. This review proposes intracellular oxidative stress mitigation as major path toward regenerative treatment. Treatment with antioxidants, identification of appropriate antioxidant therapeutic candidates as well as efficient delivery methods across the blood brain barrier are major hurdles that would need to be resolved for building the groundwork for PD treatment in the context of our proposed paradigm. An additional implication is the identification of elements linked to oxidative stress as potential diagnostic targets for PD, including upregulation of lipid hydroperoxide and SOD activity, and downregulation of antioxidant factors like sulfhydryl groups and catalase activity in the blood [123]. Advances in the area of in vitro disease modeling have illuminated novel insights regarding PD and yielded new ways of studying complex cellular phenotypes. Despite these advantages, current in vitro or even animal disease models are limited by their inability to recapitulate the disease in an aged condition, which is especially relevant to studying neurodegenerative diseases which are chronic conditions that occur late in life. This issue remains a critical challenge given that there are no definitive methods of closely mimicking the naturally aged state of cells; nevertheless, given the rapid and continued progress in the field of disease modeling particularly in the context of neurological disorders, there is hope that these strides can soon lead to the development of effective therapeutic strategies.
Abbreviations
6-OHDA:

6-hydroxydopamine
ATF:

Activation transcription factor
CCCP:

Carbonyl cyanide-m-chlorophenylhydrazone
CHOP:

C/EBP homologous protein
DA:

Dopamine
DAQ:

DA-quinone
DOPAC:

3,4-dihydroxyphenylacetic acid
DOPAL:

3,4-dihydroxyphenylacetaldehyde
ER:

Endoplasmic reticulum
GSH:

Glutathione
iPSC:

Induced pluripotent stem cell
IRE1:

Inositol-requiring enzyme 1
L-DOPA:

L-3,4-dihydroxyphenylalanine
LRRK2:

Leucine-rich repeat kinase 2
MAM:

Mitochondrial-associated membrane
MAO-B:

Monoamine oxidase B
MCU:

Mitochondrial calcium uniporter
MEF2C:

Myocyte-specific enhancer factor 2C
MPP + :

1-methyl-4-phenylpyridinium
MPTP:

1-methyl-4-phenyl-1,2,3,6-tetrabydropyridine
mtDNA:

Mitochondrial DNA
NADH:

Nicotinamide adenine dinucleotide
PERK:

Pancreatic ER kinase-like ER kinase
PD:

Parkinson's disease
PGC-1α:

Peroxisome proliferator-activated receptor gamma coactivator 1-alpha
PINK1:

PTEN induced putative kinase 1
ROS:

Reactive oxygen species
SN:

Substantia nigra
SNARE:

Soluble N-ethylmaleimide-sensitive factor attachment protein receptor
SOD:

Superoxide dismutase
TH:

Tyrosine hydroxylase
TOM:

Translocase of the outer membrane
UPR:

Unfolded protein response
UPS:

Ubiquitin-proteasome system
VMAT2:

Vesicular monoamine transporter 2
VTA:

Ventral tegmental area
WT:

Wild type
XBP1:

X-box binding protein 1
Declarations
Acknowledgements
Not applicable
Funding
This work was supported by the National Research Foundation of Korea (NRF) grant (NRF-2017M3A9B4062415; NRF-2017R1A2B4003018; NRF-2016K1A4A3914725) and by the International Science and Business Belt Program (2015 K000278) funded by the Korea government (MSIP) for writing the manuscript.
Availability of data and materials
Not applicable
Authors' contributions
LP and SJ contributed to manuscript composition as well as construction of figs. SC provided constructive suggestions and comments to improve the manuscript. All authors read and approved the final manuscript.
Ethics approval and consent to participate
Not applicable
Consent for publication
Not applicable
Competing interests
The authors declare that they have no competing interests.
Publisher's Note
Springer Nature remains neutral with regard to jurisdictional claims in published maps and institutional affiliations.
Open AccessThis article is distributed under the terms of the Creative Commons Attribution 4.0 International License (http://creativecommons.org/licenses/by/4.0/), which permits unrestricted use, distribution, and reproduction in any medium, provided you give appropriate credit to the original author(s) and the source, provide a link to the Creative Commons license, and indicate if changes were made. The Creative Commons Public Domain Dedication waiver (http://creativecommons.org/publicdomain/zero/1.0/) applies to the data made available in this article, unless otherwise stated.
Authors' Affiliations
(1)
Soonchunhyang Institute of Medi-bio Science (SIMS), Soonchunhyang University, Cheonan-si, South Korea
(2)
Center for Stem Cell Biology, Sloan-Kettering Institute, New York, USA