Opposing roles of PlexinA and PlexinB in axonal branch and varicosity formation
Received: 28 February 2011
Accepted: 13 April 2011
Published: 13 April 2011
Abstract
Establishing precise synaptic connectivity during development is crucial for neural circuit function. However, very few molecules have been identified that are involved in determining where and how many synapses form. The Plexin cell-surface molecules are a conserved family of axon guidance receptors that mediate axon fasciculation and repulsion during neural development, and later in development PlexinA receptors are involved in eliminating axonal branches and synapse numbers. Here we investigate the roles of PlexinA and PlexinB receptors in axonal branch and varicosity formation in Drosophila. We knocked down PlexinA or PlexinB expression using RNAi in identified mechanosensory neurons and analyzed axonal branching patterns and varicosity formations. Reducing PlexinA expression increased the axonal arbor complexity by increasing the number of branches and varicosities along the axon. In contrast, knocking down PlexinB expression decreased morphological complexity by decreasing the number of branches and the overall size of the axonal arbor, but did not reduce the number of varicosities. Our results demonstrate opposing roles for PlexinA and PlexinB in local wiring within a target region, where PlexinA functions to suppress excessive axonal branches and synapses and PlexinB facilitates axonal growth.
Keywords
Axon GuidanceThoracic GanglionVariable BranchAxonal BranchAxonal Arbor
Background
The intricate connectivity of neural circuits is formed during development by growing axons that must integrate a complex array of growth cues and guidance signals to innervate specific targets. Several receptor families and guidance cues involved in axon navigation to target regions have been uncovered, but the molecular mechanisms underlying local targeting decisions remain unclear. Many of the molecules involved in axon guidance to target regions have also been found to function in regulating synaptic connectivity and synapse formation [1–4]. For example, a knockout mouse of the axon guidance receptor PlexinA4 exhibits a variety of defects in its embryonic peripheral and central nervous systems, such as abnormal trajectories of cranial and spinal nerves, and overshooting of ophthalmic nerve fibers past their peripheral target fields [5]. At later post-natal ages, the PlexinA3 and PlexinA4 receptors were found to also mediate axonal pruning of branches and collaterals and elimination of synaptic complexes [6, 7].
The Plexins are a family of neuronal receptors conserved across vertebrates and invertebrates. Vertebrates have nine Plexins grouped into four classes (A-D) based on homology [8]. Drosophila have two Plexins belonging to class A and class B, encoded by the PlexA and PlexB genes [9]. Drosophila PlexinA and PlexinB have shared and distinct roles in mediating axon guidance during embryogenesis. Both PlexinA and PlexinB null mutants have similar guidance defects where motor axons fail to defasciculate properly to innervate wing muscle [10]. However, different longitudinal nerve bundles require different Plexins to fasciculate properly within the central nervous system (CNS) [10]. PlexinA and PlexinB also bind distinct ligands in flies: PlexinA is the receptor for the class 1 transmembrane Semaphorin ligands, Sema1a and Sema1b, whereas PlexinB binds the class 2 secreted Sema2a ligand [9–11]. Plexins direct axons by activation of cytoskeletal reorganization through the Rho family of small GTPases, and the active form of the GTPase Rac1 has been shown to directly bind the cytoplasmic tails of both PlexinA and PlexinB [12–15].
Although the class A Plexins in mammals have been implicated in axonal branch pruning, it is not known whether Drosophila PlexinA might be involved in a similar manner in branch and synapse formation, and what role, if any, PlexinB has beyond axon guidance. Here we compare the roles of Drosophila PlexinA and PlexinB in the axon guidance of peripheral mechanosensory axons for their choice of a specific pathway into the CNS. We also examine the roles of PlexinA and PlexinB in axonal branching within a CNS target region. We imaged single mechanosensory axons projecting into the thoracic ganglion, and analyzed their axonal morphologies after RNAi knockdown of PlexA or PlexB. We show that PlexinA, but not PlexinB is required for proper axon guidance into the CNS. Using quantitative analysis of the axonal arbor, we also show that decreasing PlexinA expression results in increased axonal arbor complexity and axonal contacts, whereas decreasing PlexinB expression decreases arbor complexity. Our data suggest a model where PlexinA suppresses branch formation, and PlexinB promotes axonal branching during circuit formation.
Results
To examine the role of the Plexin molecules in axon guidance and synaptic targeting, we used the
Drosophila
mechanosensory system. This system is a good model for studying targeting because of the invariant axonal targeting patterns of individually identifiable neurons [
16
–
18
]. We focused on the left and right pair of posterior mechanosensory neurons on the fly scutellum, called the posterior scutellar (pSc) neurons. The pSc axon enters the thoracic ganglion via the posterior dorsal mesothoracic nerve bundle (arrowhead in Figure
1A
) and elaborates a stereotyped branching pattern to synapse with interneurons within the CNS [
17
]. We imaged the axon entry point and axonal branching patterns of single pSc neurons by labeling them with fluorescent dyes (Figure
1
). In wildtype flies, the pSc axon guidance into the CNS is remarkably precise and we found no instance of axon guidance errors. To determine the wildtype variability in targeting of branches within the CNS, we measured the number and lengths of branches in 21 wildtype flies, and identified a "core" pattern of 16 specific branches that were present in more than 80% of animals (Figure
1A
). These 16 pSc axonal branches were designated as the prototypical pSc skeleton. Thus, the average pSc neuron has 16 skeletal branches and 6 additional variable branches that make up its total axonal arbor.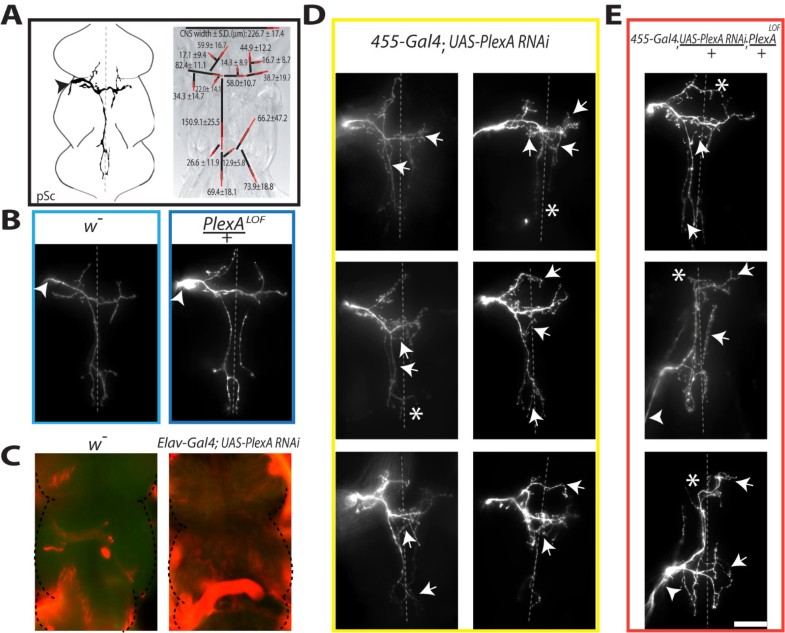 Loss of function of either of the two Drosophila Plexin genes, PlexA and PlexB, is homozygous lethal in adults [9–11, 19]. Therefore, we first characterized heterozygous animals of a PlexA f05547 loss of function (LOF) allele, PlexA LOF /+. We examined the pSc axonal pathway choice in the PlexA LOF /+ mutants to assess its effects on axon guidance into the CNS (Figure 1B). We found that in all PlexA LOF /+ heterozygous mutants, the pSc axon entered the thoracic ganglion at the proper position in the mesothoracic segment (arrowheads in Figure 1B) and had no occurrences of axon guidance errors, similar to wildtype. Interestingly, in analyzing the axonal arbors within the CNS, we observed a significant increase in the number of pSc axonal branches (26.5 ± 0.7 branches, n = 15) in PlexA LOF /+ heterozygous mutants compared to w- wildtype controls (22.5 ± 0.3 branches, n = 21) (p < 0.05).
We examined the expression pattern of PlexinA within the thoracic ganglion, using antibodies against PlexinA protein and the MAP1B cytoskeletal protein as a neuronal marker (Figure 1C). PlexinA protein was observed in a punctuate, dashed pattern presumably along neuronal processes (Additional file 1, Figure S1A) and overlapped with MAP1B, widely expressed throughout the ganglion. We confirmed this expression to be pre-dominantly neuronal, as a pan-neuronal (elav-Gal4) knockdown of PlexinA using RNAi reduced PlexinA protein levels to near undetectable levels (Figure 1C and Additional file 1, Figure S1B). A previous report of PlexinA expression during development has shown it to be similar and broadly distributed throughout the CNS in motor and sensory axons [9]. Thus, to further characterize how PlexinA is involved in pSc axonal targeting, we moved to a mosaic analysis of PlexinA function.
Discussion
Previous studies have indicated redundant roles for the two Plexin molecules in axon guidance, as well as distinct but highly similar roles in guidance and fasciculation [9, 10]. In our study, we used RNAi in single mechanosensory neurons in combination with genetic and quantitative morphological analyses to demonstrate opposing functions for PlexinA and PlexinB in local axonal branch and varicosity formation. We found that decreased PlexinA expression within mechanosensory axons caused excessive branching and varicosities. Decreasing PlexinB expression reduced the number of branches and size of the axonal arbor. Our results demonstrate a novel role for Drosophila Plexins that is independent of axon guidance functions. We did observe significant axon guidance errors in 56% of 455-Gal4; UAS-PlexA-dsRNA/+; PlexA LOF /+ flies, whereas in PlexinB mutants pathfinding errors did not significantly occur. These results are consistent with a previous report that axon guidance defects in PlexinA mutants cannot be compensated for by PlexinB, but guidance defects in PlexinB mutants can be partially rescued by PlexinA [10], however we did not observe any axon guidance errors in double mutant PlexinA and PlexinB pSc neurons (Figure 5 and Table 1). Pathway choice for axonal entry into the CNS is a highly stereotyped process, but the mechanisms involved in axonal fasciculation into and defasciculation out of nerve bundles have thus far only been characterized in homeotic mutations, and physical manipulations [17, 28, 29]. Our results demonstrate PlexinA as a guidance molecule required for specifying pathway choice of mechanosensory axons into the CNS.
Our results also uncovered a role for PlexinA in axonal arbor formation within the CNS by suppressing or destabilizing axonal branches and varicosities. These results are consistent with previous experiments that have shown that mammalian PlexinA3 and PlexinA4 are involved in axonal branch pruning and synapse elimination [6, 7]. Drosophila PlexinA does not seem to operate in an identical manner, however, in that the stereotyped pSc axonal arbor in PlexinA mutants is not formed with an excess of branches that normally would have been pruned, as is the case for mammalian PlexinA. Instead, PlexinA mutant axons have frequent branch routing errors in addition to excessive branching, indicating that PlexinA is not simply involved in branch pruning but may also be involved in targeting (Figure 1). We also observed an increase in axonal varicosities in the branches of PlexinA mutant neurons which suggests two possibilities: Either that the formation of a new branch necessitates synapse formation along the branch, regardless of PlexinA, or that PlexinA is required for the active suppression of synapses as well as branches. We favor the latter hypothesis based on analysis of varicosity numbers per branch in PlexinA mutants that revealed a 54% increase in the number of varicosities per branch (Additional file 2, Figure S2B). This suggests that PlexinA may be involved in suppressing synapse formation as well as branch formation in axons.
Plexin receptors are associated with axon repulsion and growth cone collapse. How does Drosophila PlexinB in mechanosensory axons induce branch growth within the CNS? Our findings that PlexinB knockdown in pSc neurons decreased axonal growth are consistent with previous experiments in vitro showing that human PlexinB2 and PlexinB3 could promote neurite outgrowth [30]. These experiments also demonstrated that the class B Plexins could bind homophilically in trans across membranes, providing a potential Semaphorin-independent mechanism by which Plexins could promote growth.
How might the two similar cell-surface receptors PlexinA and PlexinB mediate opposing effects on axonal branch growth? Two different mechanisms may exist to allow for opposing effects of PlexinA and PlexinB: differential binding of the Plexins to specific Semaphorin ligands, or Semaphorin-dependent activation of PlexinA and Semaphorin-independent activation of PlexinB through homophilic interactions in trans. Evidence for differential binding exists from the crystal structures of vertebrate Plexin-Semaphorin complexes [31, 32]. These results show that PlexinA2 homodimerizes in cis to bind to homodimers of Sema6A, while PlexinB1 homodimerizes to bind SEMA4D homodimers, with their binding specificity conferred via conserved interactions between the sema domains in both Plexin and Semaphorin [31, 32]. Furthermore, experiments examining Drosophila PlexinA and PlexinB function have shown that the differential binding affinities of PlexinA for the Sema1a ligand and PlexinB binding Sema2a controls precise synaptic patterning through expression of Plexins and Semaphorins in specific neuronal subsets [9–11]. Specific targeting of sensory axons was found to be dependent on different gradients of Semaphorins.
However, the specificity for PlexinA and PlexinB to bind the class 1 and class 2 Semaphorins, respectively, is not clear [for example see Figure S9 in reference 11], and our genetic interaction experiments examining class 2 Semaphorins and PlexinB within the mechanosensory system have not demonstrated any significantly different phenotypes (unpublished observations). In addition, PlexinB has been also shown to bind PlexinA and some of its axon guidance functions occur through the same signaling molecules (e.g., MICAL) as PlexinA [10]. Intracellular signaling molecules downstream of surface receptors have not been fully identified, and how they interact to control branch growth is still poorly understood [33–38]. Thus, PlexinA expressed in mechanosensory axons may detect Sema1a or Sema1b expressed on inappropriate targets resulting in branch retraction, and secreted Sema2a in the surrounding environment may be detected by PlexinB in axonal branches resulting in growth. Alternatively, PlexinA with or without PlexinB in a complex may detect Semaphorins to induce branch retraction, but if PlexinB is detected in trans, axonal growth occurs. It will be interesting to see whether mechanosensory axons utilize Plexin receptors through ligand-specific interactions or through homophilic interactions, and the downstream signaling mechanisms underlying branch and synapse growth and suppression.
Conclusions
We used the stereotyped axonal arbors of the pSc mechanosensory neuron to examine the roles of PlexinA and PlexinB receptors in axonal branching and varicosity formation. Our study shows that PlexinA is required for suppression of excess axonal branches and varicosities, and that PlexinB is involved in branch growth. These findings demonstrate that the PlexinB receptor is not redundant for PlexinA function, but acts in opposition. These results will aid our understanding of the molecular cues involved in determining how many and where synapses should form during neural circuit development and provide molecular targets for promoting axonal branch growth and synapse formation.
Declarations
Acknowledgements
We thank Vedrana Cvetkovska for assistance in data acquisition and analysis. This work was supported by The Research Institute of the McGill University Health Centre and the McGill University Department of Medicine.
Authors' Affiliations
(1)
Research Institute of the McGill University Health Centre, Centre for Research in Neuroscience, Montréal, Canada
(2)
Departments of Medicine and Neurology & Neurosurgery, McGill University, Montréal, Canada
Copyright
© Neufeld et al; licensee BioMed Central Ltd. 2011
This article is published under license to BioMed Central Ltd. This is an Open Access article distributed under the terms of the Creative Commons Attribution License (http://creativecommons.org/licenses/by/2.0), which permits unrestricted use, distribution, and reproduction in any medium, provided the original work is properly cited.