Expression of NMDA receptor-dependent LTP in the hippocampus: bridging the divide
Received: 8 January 2011
Accepted: 27 December 2012
Published: 22 January 2013
Abstract
A consensus has famously yet to emerge on the locus and mechanisms underlying the expression of the canonical NMDA receptor-dependent form of LTP. An objective assessment of the evidence leads us to conclude that both presynaptic and postsynaptic expression mechanisms contribute to this type of synaptic plasticity.
Keywords
NMDA Receptor
AMPA Receptor
Expression Mechanism
AMPA Receptor Subunit
Postsynaptic Mechanism
Introduction
The view that the expression of N-methyl-D-aspartate (NMDA) receptor-dependent long-term potentiation (LTP) is achieved largely, if not exclusively, by purely postsynaptic mechanisms, involving the trafficking and insertion of AMPA receptors, has been promoted in a series of reviews and papers [1–3]. It remains our contention, as advanced previously [4, 5], that a balanced assessment of the available evidence leads to the conclusion that in some experimental situations presynaptic mechanisms play an important, even a dominant role. Conversely, in other situations, it is clear that the expression of LTP is largely, if not exclusively, postsynaptic.
The term LTP embraces a family of plasticity-related phenomena, including tetanus-induced LTP, pairing-induced LTP, spike-timing dependent LTP and chemically-induced LTP, each with potentially distinct expression mechanisms. To add to the complexity, LTP can be induced in a wide variety of neural pathways over a range of developmental ages and in a number of different
in vitro
and
in vivo
preparations. In most cases, LTP has been followed for no more than an hour or so, and in no case is there sufficient information to give a complete account of the expression mechanism at all times following induction. Most of the experiments that have addressed the question of the locus of expression have been performed on hippocampal slices, usually by studying AMPA receptor-mediated synaptic transmission at the Schaffer collateral - commissural pathway that connects the CA3 and CA1 pyramidal cell fields. In this review we examine the literature relevant to the locus of expression of NMDA receptor-dependent LTP (referred to hereafter simply as LTP). We consider the range of possible expression mechanisms shown schematically in Figure 
1
. Note than in many cases the experimental techniques adopted can address only one side of the debate - for instance, measurement of glutamate release cannot throw light on whether or not there are postsynaptic changes, and conversely analysis of glutamate receptor trafficking can have nothing to say about presynaptic changes. Other techniques are in principle capable of providing evidence for pre or postsynaptic changes (for example, quantal analysis).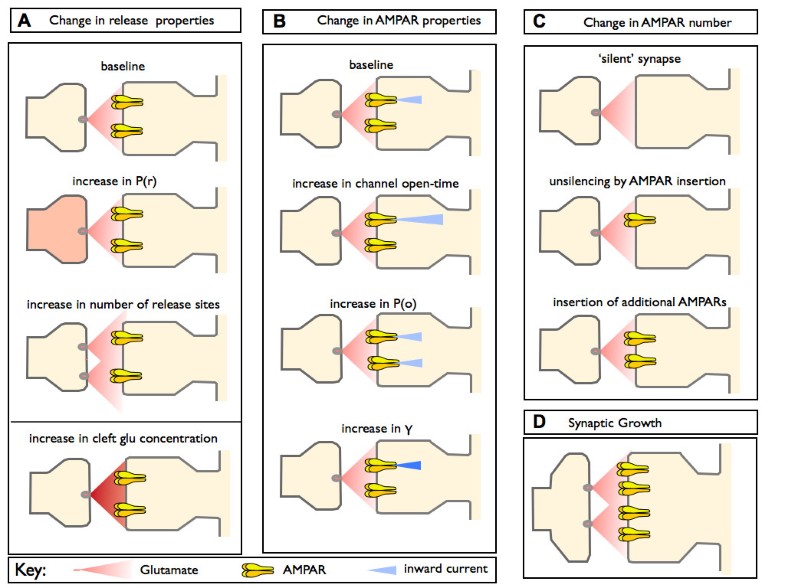 Presynaptic mechanisms
We begin with a summary of results which have yielded evidence for presynaptic changes.
Postsynaptic mechanisms
There is widespread agreement that LTP is triggered by postsynaptically located NMDA receptors [4]. Numerous studies have shown that the manipulation of signalling molecules such as CaMKII in the postsynaptic compartment, prevent the induction of LTP and the movement of some of these molecules within spines and dendrites has been visualised during LTP [36, 37]. The simplest locus for expression is therefore the same postsynaptic compartment. For presynaptic changes to occur there needs either to be an additional presynaptic induction signal, a diffusible retrograde messenger to convey the message back across the synapse or a signal conveyed by structural transsynaptic molecules, such as cadherins. No strong candidates have yet emerged.
Broadly speaking, evidence that LTP is expressed as a postsynaptic alteration comes in two categories. First, there is evidence that LTP is not presynaptic - and therefore by default is assumed to be postsynaptic. Evidence of this sort is inherently weakened by its reliance on assumptions that the experiment would have detected a presynaptic change had it occurred. Even the best controlled experiment cannot exclude all eventualities which could militate against a presynaptic change being observed, as is well illustrated by the first experiment considered in the next section. The second type of evidence, which we regard as much stronger, is where a postsynaptic change is directly observed. These types of evidence will be discussed in turn.
Structural Alterations
The various pre and postsynaptic mechanisms described above could exist without the need for any structural alterations of synapses. However, there is good anatomical evidence that LTP is associated with changes in synapse morphology [89] and that these changes can occur rapidly following repetitive uncaging of glutamate at single dendritic spines [90]. But although growth and retraction of spines have been reported following LTP-inducing protocols [91] there have as yet been no reports of morphological changes following the induction of LTP at individually imaged spines.
Discussion
There is no simple way in which the contradictory results on the expression mechanisms of early NMDA receptor-dependent LTP can be reconciled. Across the various studies we have discussed, there are multiple, potentially confounding factors. These include, but are by no means restricted to, differences in (i) the preparation (dissociated neurons, acute slice, organotypic slice, anaesthetised animal, freely moving animal), (ii) LTP induction protocols (chemical, tetanus, theta, pairing, spike-timing etc.) (iii) time after induction, (iv) interactions with other activity-dependent forms of synaptic plasticity, such as short-term potentiation (STP), that may occur in parallel with LTP, (v) developmental status of the animal, (vi) species and strain of the animal, (vii) animal housing (food, light–dark cycle, prior experience, level of stress), (viii) sex and hormonal status. The situation becomes even more complex when the diversity of expression mechanisms between different classes of synapses is also taken into account.
STP is of particular relevance to any discussion of the variables that influence the induction and expression of synaptic plasticity. The duration of STP (also sometimes termed transient LTP; t-LTP) is consistent under a given set of conditions but can vary considerably across studies (typically lasting between a few minutes and an hour) and, in some cases, may be absent altogether. STP has the remarkable property that it decays in an activity-dependent manner, so that in the absence of any stimulation to probe synaptic efficacy it can persist, in latent form, for many hours [92]. The presence and duration of STP can be predicted on the basis of the frequency of the stimuli used to induce and monitor synaptic plasticity; a high frequency tetanus followed by a low frequency of test stimulation favours STP. The relevance of this to the discussion of LTP expression mechanisms is that available evidence suggests that STP is primarily mediated presynaptically [92]. An STP-like phenomenon may account, therefore, for some of the reported studies that have provided evidence for presynaptic expression of LTP. A recent study has revealed differences in the NMDA receptor subtypes involved in the induction of STP and LTP [93]; it is possible therefore that two different forms of NMDA receptor-dependent with different induction and expression loci coexist at potentiation synapses.
Although any of the above factors alone or in combination may have an important influence on the outcome of the experiment, factors such as these cannot account for the entire heterogeneity of LTP expression mechanisms. This is demonstrated by studies in which more than one mechanism was observed in the same set of experiments. For example, in slices from young animals, expression mechanisms changed markedly between the first and second weeks of life, and even at the same developmental stage there was more than one LTP phenotype [
12
]; and in organotypic cultures, single visualised synapses were first unsilenced by a postsynaptic mechanism and then further potentiated by a presynaptic mechanism [
29
,
55
]. It is likely therefore that synapses in the hippocampus have the capacity to display multiple forms of NMDA receptor-dependent LTP (Figure 
5
), with the prevailing form at a given time depending on many, still to be identified, factors.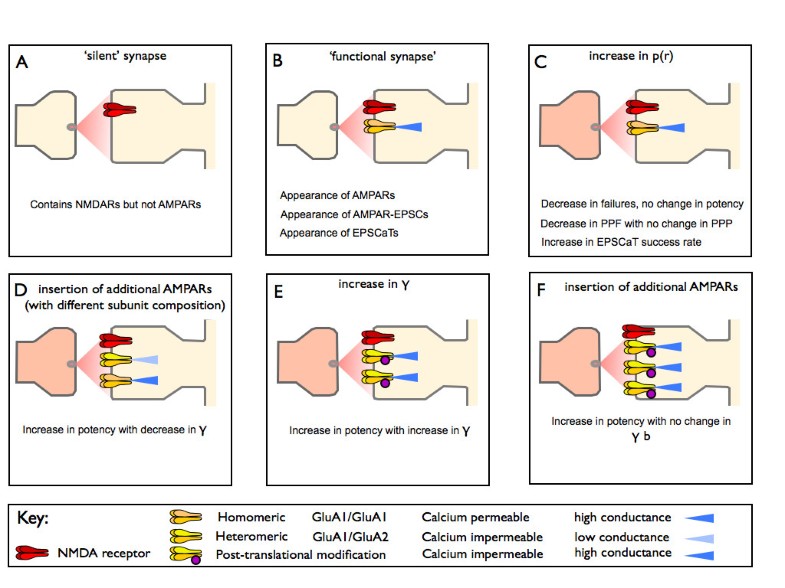 On the face of it the most convincing of the approaches discussed above is the imaging study of Enoki et al. [30], because this experiment yielded measurements of p(r) and quantal size at individual potentiated synapses. The results appear to deny a role to the postsynaptic side (no change in synaptic potency), while demonstrating a role for the presynaptic side (an increase in p(r)). Note, however, that these results, and indeed the great majority of experiments on expression mechanisms, only provide a snap shot of LTP at an early time point after induction. In the intact animal different mechanisms may support the expression of later stages of LTP, and here there is evidence from hippocampus [85] and amygdala [94] for postsynaptic changes.
It is also worth noting that most LTP studies have focussed on what happens to AMPA receptor-mediated synaptic transmission, since these receptors are the predominant mediators of fast synaptic transmission in the hippocampus, and elsewhere in the brain. However, in the intact animal high frequency discharges are a common firing mode and NMDA receptors contribute substantially to the synaptic response under these conditions. The synaptic response mediated by NMDA receptors is also capable of exhibiting LTP [39–42]. A full description of the expression mechanisms of LTP will also need to consider the plasticity of this major synaptic component.
Where does this leave us? Our strong feeling is that the evidence is too persuasive on both sides to assume that further experiments will reveal one or the other mechanism to be the outright victor in the eyes of an unbiased observer. We conclude that two expression mechanisms are available for NMDA receptor-dependent LTP, one presynaptic, resulting in an increase in p(r) without an increase in potency, and the other postsynaptic, resulting in a change in potency without an increase in p(r), and reflecting changes in the number and/or conductance properties of AMPA receptors. Either or both mechanisms could be induced in a given experimental situation, leading to cases where early LTP will be seen as entirely presynaptic, entirely postsynaptic or a combination of the two.
The property of LTP that most commends it as a cellular mechanism for encoding information is its longevity. The studies we have discussed so far reveal little about the mechanism of enduring LTP in the intact animal. Ultimately, the search for expression mechanisms will need to be conducted in the context of the neural networks subserving memory and cognition, processes that can potentially operate over a lifetime. Here progress will depend on techniques to study the plasticity and structure of single synapses in the freely moving animal. If and when agreement on a long-term expression mechanism based on structural changes is reached, pre and postsynaptic mechanisms will converge, and a controversy that has already continued for nearly four decades may finally be put to rest.
Declarations
Acknowledgements
We are grateful to the graduate students in the department of Brain and Cognitive Sciences, Seoul National University, Korea for their helpful feedback. Supported by the WCU Program (Korea) and MRC (UK).
Authors' Affiliations
(1)
Division of Neurophysiology, National Institute for Medical Research, London, UK
(2)
Centre for Synaptic Plasticity, School of Physiology and Pharmacology, University of Bristol, Bristol, UK
(3)
Department of Brain & Cognitive Sciences, College of Natural Sciences, Seoul National University, Gwanak, Korea
Copyright
© Bliss and Collingridge; licensee BioMed Central Ltd. 2013
This article is published under license to BioMed Central Ltd. This is an Open Access article distributed under the terms of the Creative Commons Attribution License (http://creativecommons.org/licenses/by/2.0), which permits unrestricted use, distribution, and reproduction in any medium, provided the original work is properly cited.