The impact of human hyperekplexia mutations on glycine receptor structure and function
Received: 24 October 2013
Accepted: 7 January 2014
Published: 9 January 2014
Abstract
Hyperekplexia is a rare neurological disorder characterized by neonatal hypertonia, exaggerated startle responses to unexpected stimuli and a variable incidence of apnoea, intellectual disability and delays in speech acquisition. The majority of motor defects are successfully treated by clonazepam. Hyperekplexia is caused by hereditary mutations that disrupt the functioning of inhibitory glycinergic synapses in neuromotor pathways of the spinal cord and brainstem. The human glycine receptor α1 and β subunits, which predominate at these synapses, are the major targets of mutations. International genetic screening programs, that together have analysed several hundred probands, have recently generated a clear picture of genotype-phenotype correlations and the prevalence of different categories of hyperekplexia mutations. Focusing largely on this new information, this review seeks to summarise the effects of mutations on glycine receptor structure and function and how these functional alterations lead to hyperekplexia.
Keywords
Cys-loop receptor
Ligand-gated ion channel
Chloride channel
Startle disease
Glycinergic neurotransmission
Hyperekplexia and glycine receptors
Hyperekplexia (OMIM #149400), or human startle disease, was first reported in 1958 by Kirstein and Silfverskiold[
1
]. They described a family in which four members suffered sudden falls precipitated by 'emotional' stimuli including surprise, fear or stress. In 1966, Suhren and colleagues reported similar symptoms in a larger pedigree that were shown to be inherited in an autosomal dominant manner and were treatable by barbiturates[
2
]. We now know that hyperekplexia is a rare neurological disorder characterized by 1) episodic and generalized stiffness after birth which gradually subsides during the first years of life, 2) an increased likelihood of apnoea attacks, delayed speech acquisition and/or intellectual disability, 3) excessive startle reflexes to unexpected stimuli, particularly auditory or tactile, that persist throughout life, and 4) a transient generalized stiffness after startle reflexes that can result in injurious falls[
3
–
6
]. The classic startle response is characterized by forceful closure of eyes, rising of bent arms over the head and flexion of the neck, trunk, elbows, hips and knees (Figure
1
). Consciousness is fully retained during these episodes, thus distinguishing hyperekplexia from epileptic seizures. Clonazepam, a benzodiazepine that positively modulates inhibitory synaptic gamma aminobutyric acid (GABA) type-A receptor chloride channels, is a highly effective treatment[
3
].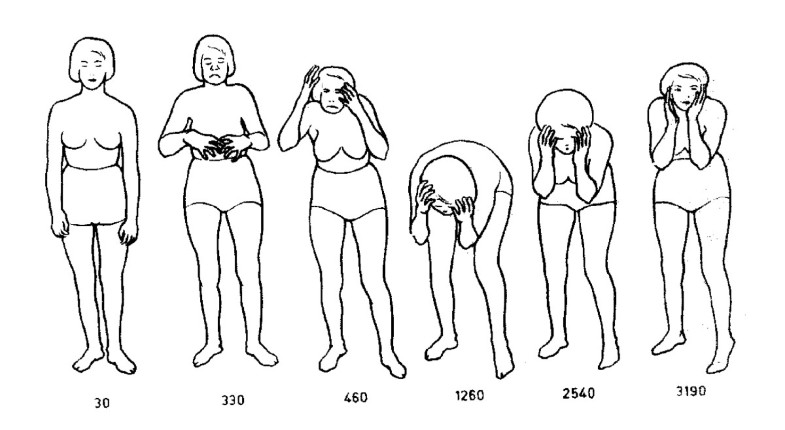 Shiang and colleagues were first to show that hyperekplexia is caused by hereditary mutations in the GLRA1 gene that encodes the α1 subunit of the inhibitory human glycine receptor (hGlyR) chloride channel[7]. Although the GLRA1 gene represents the major gene of effect[8, 9], hyperekplexia can also be caused by mutations in the GLRB gene which encodes the hGlyR β subunit[10–15] or in the SLC6A5 gene which encodes the presynaptic glycine transporter type-2[16–19]. Mutations have also been identified in the genes encoding the hGlyR synaptic clustering proteins, gephyrin[20] and collybistin[21]. However, the phenotypes resulting from the later mutations are more complex than the classical phenotype described above. The common feature of all these proteins is that they are required for the normal functioning of inhibitory glycinergic synapses. As a large proportion of hyperekplexia cases have no genetic explanation[4], the analysis of other proteins involved in the development or function of glycinergic synapses could reveal further susceptibility genes. At this stage, however, the proteomics of glycinergic synapses is not well understood.
Inhibitory glycinergic synapses are located predominantly in the spinal cord and brainstem[22–24] and disruptions to their function increase the general level of excitability of motor neurons, thus accounting for neonatal hypertonia. Although patients seem to develop compensatory mechanisms to cope with this chronically enhanced excitability, they are not able to deal with the increased inhibitory demand required to dampen strong, unexpected excitatory commands[3].
Recently, thanks to large-scale systematic genetic screening programs, several hundred hyperekplexia probands have been examined and the results have generated a clear picture of the type and prevalence of mutations, their inheritance modes and the mechanisms by which they affect hGlyR structure and function[8, 9, 11, 12, 25]. The field may thus be considered to have reached a state of maturity. The clinical presentation and genotype-phenotype correlations in hyperekplexia have recently been published[4, 5, 26]. The aim of this review is to summarise the effects of mutations on hGlyR structure and function and how these functional alterations lead to hyperekplexia.
Molecular structure, stoichiometry and expression of GlyRs
GlyRs belong to the Cys-loop family of pentameric ligand-gated ion channel (pLGIC) receptors. The X-ray molecular structures of several pLGIC receptors have been solved, including two bacterial homologues crystallized in the closed and open states, respectively[
27
–
29
], a nicotinic acetylcholine receptor (nAChR) from
T. marmorata
[
30
] and a glutamate-gated chloride channel receptor from
C. elegans
[
31
]. As this later receptor exhibits ~34% sequence homology with the α1 hGlyR subunit, it provides an excellent molecular structural template. As shown in Figure
2
A, B GlyRs consist of five subunits arranged symmetrically in a ring around a central ion-conducting pore. Each subunit contains an extracellular domain (ECD), comprised mainly of a twisted β-sheet sandwich, harbouring the ligand binding site, and a transmembrane domain (TMD) comprising four α-helices, termed TM1 – TM4, with the five TM2 domains lining the axial channel pore. Both the extracellular β-sheets and transmembrane α-helices are connected by flexible loops. Glycine binds at the extracellular subunit interface and maximum gating efficacy is reached when three of the five binding sites are occupied[
32
]. Upon glycine binding, each ECD rotates relative to its TMD, ultimately inducing an outward tilt of the top of the TM2 domains which then opens the pore[
33
–
35
].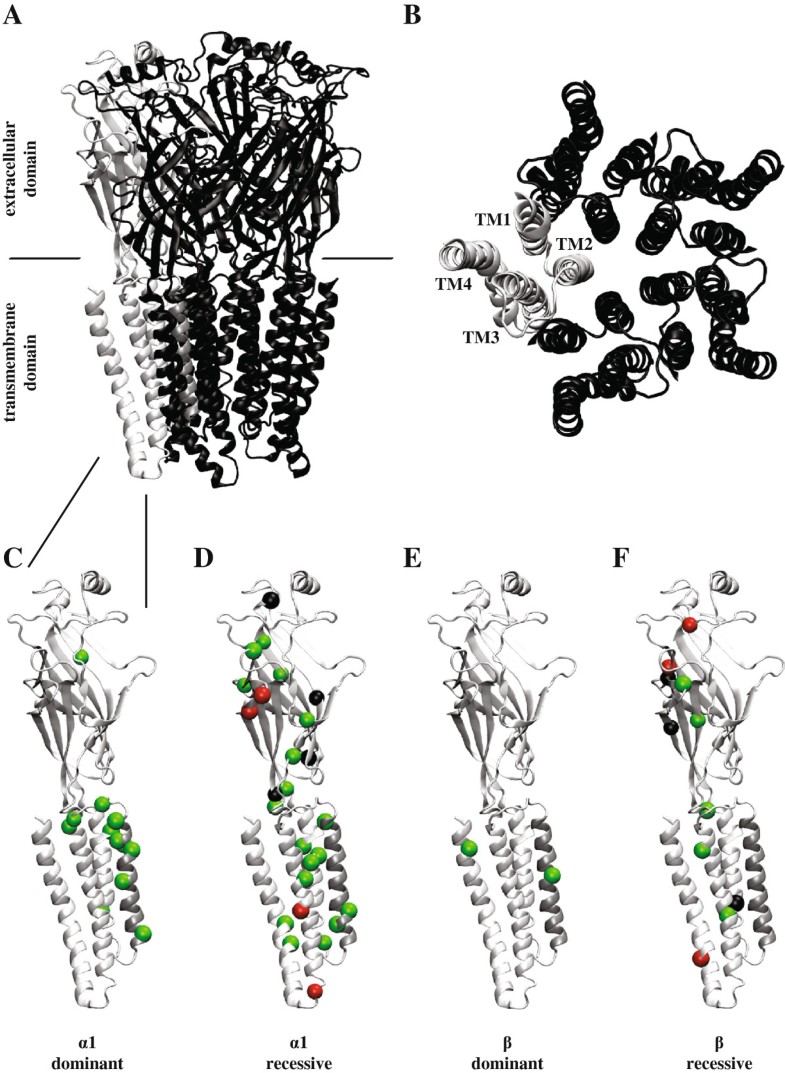 In humans, four α subunits (α1 – α4) and a single β subunit have been described. The human α4 subunit is considered a pseudogene on the grounds that it incorporates a premature stop codon upstream of the final TM4 domain[36]. hGlyRs exist either as α homomers or as αβ heteromers in a stoichiometry of 2α:3β[37, 38] or 3α:2β[39]. As the β subunit mediates hGlyR attachment to the sub-synaptic clustering protein, gephyrin[40], it is presumed that only heteromeric αβ hGlyRs are present in synapses. Embryonic rats express predominantly α2 subunits, with the onset of β subunit expression coinciding with the first appearance of glycinergic synapses around the time of birth[41]. By three weeks postnatal in the rat spinal cord, most α2 subunits have been replaced by α1 subunits. In the adult spinal cord, α1 and β subunits are expressed in glycinergic synapses in motor reflex arcs, whereas α1, α3 and β subunits are all expressed in inhibitory synapses in pain sensory neurons in the superficial laminae of the dorsal horn[42]. In the cerebral cortex and hippocampus, GlyRs are extra-synaptic only and comprise predominantly α2 homomers or α2β heteromers[43–46]. This expression pattern implies that α1 and β subunits should be targets of hyperekplexia mutations whereas α2 and α3 subunits should not.
Hyperekplexia mutations in the hGlyR α1 subunit
Hyperekplexia mutations in the hGlyR β subunit
The
GLRB
gene has only recently been identified as a major gene of effect in hyperekplexia[
10
–
12
] although the first
GLRB
hyperekplexia mutation was identified in 2002[
15
]. To date, one autosomal dominant mutation, Y470C, is known[
11
], although the
de novo
L285R substitution is also likely autosomal dominant given the nature of its effect on receptor function (see below) and the fact that it was identified in a heterozygous proband[
12
]. The remaining mutations are autosomal recessive as either homozygous recessive or as compound heterozygous (Table
2
). Around half of these mutations result in the excision of large amounts of β subunit protein which would most certainly eliminate functional expression. Most of the remaining mutations (P169L, M177R, G229D,
△
S262, W310C, R450X, Y470C) either reduce cell surface expression of functional heteromeric hGlyRs and/or cause modest reductions in glycine sensitivity[
11
,
12
,
15
], both of which are typical effects of recessive mutations. Although molecular modelling has provided insight into possible structural defects caused by these mutations[
11
,
12
], experimental support for most of the model predictions is lacking to date.
Table 2
Hyperekplexia mutations in GLRB
| Mutation | Mutation type | Inheritance | GlyR position | Notes | Reference |
| --- | --- | --- | --- | --- | --- |
| ΔEx1-8 | deletion | recessive | n.a. | | [11] |
| Splice site mutation In4 (c.298-1G > A) | missense | recessive | n.a. | compound heterozygous with S321F | [13] |
| ΔEx5 | deletion | recessive | n.a. | compound heterozygous with G229D | [15] |
| ΔEx5 and S176RfsX6 | deletion | recessive | n.a. | | [11] |
| E24X | nonsense | recessive | ECD | | [11] |
| R50X | nonsense | recessive | ECD | compound heterozygous with Q216fsX222 | [14] |
| P169L | missense | recessive | ECD | | [11] |
| M177R | missense | recessive | ECD | | [10] |
| R190X | nonsense | recessive | ECD | compound heterozygous with △S262 | [11] |
| F19IfsX3 | deletion | recessive | ECD | | [11] |
| Q216fsX222 | deletion | recessive | ECD | compound heterozygous with E24X | [14] |
| G229D | missense | recessive | ECD | compound heterozygous with ΔEx5 | [15] |
| △S262 | deletion | recessive | TM1 | compound heterozygous with R190X | [11] |
| L285R | missense | de novo | TM2 | | [12] |
| W310C | missense | recessive | TM2-TM3 loop | | [12] |
| S321F | missense | recessive | TM3 | compound heterozygous with In4 (c.298-1G > A) | [13] |
| R450X | nonsense | recessive | TM3-TM4 loop | | [11] |
| Y470C | missense | dominant | TM4 | | [11] |
The de novo mutation, L285R, provides an exception to the above pattern of effect on the grounds that it produces spontaneous channel activity when co-expressed with α1 wild type hGlyR subunits[11, 12], and because structural basis of its defect can be inferred with confidence. L285 is located at the 9′ position in the middle of the pore-lining TM2 domain[30]. It has long been recognized that 9′ leucines are very highly conserved among pLGIC receptors. These hydrophobic leucines protrude into the pore and their presence on each of the five subunits enables them to form a pentameric radially symmetrical arrangement of hydrophobic bonds that holds the channel closed. As many functional studies have demonstrated[99–102], substitution of one or more of these leucines with polar or charged residues disrupts some of the bonds, leading to a collapse of symmetry and the conversion of all TM2 domains to the open pore conformation. Thus, one mutated subunit per receptor would be sufficient to cause a significant, potentially damaging, chloride leak current.
Unlike GLRA1 mutations, GLRB mutations are strongly associated with delays in gross motor development and speech acquisition in humans[4]. This fact resembles the situation in zebrafish, where morpholino knockdown of the zebrafish orthologues of GLRA1 and GLRB results in distinct startle phenotypes[103]. The differential effect in mammals may be explained by the fact that β subunits are expressed at a much earlier developmental stage than α1 subunits, where they are involved in the formation of the first glycinergic synapses together with α2 subunits[23, 104].
Conclusions
GLRA1 and GLRB hyperekplexia mutations can be grouped into three main categories. The first includes those dominant mutations located in and around the TM2 domain that do not impair cell surface expression but disrupt hGlyR function by either inducing spontaneous channel activity or by reducing glycine sensitivity, chloride conductance and/or open probability. The second category includes those recessive missense mutations located throughout the receptor that result in a deficiency in cell surface targeting of hGlyRs. The final category includes recessive nonsense and deletion/frameshift mutations, the so called null genotypes, which preclude the formation of full length functional pentamers. The analysis of the molecular mechanisms of these mutations has provided unexpected insights into the structure and function of GlyRs and also into glycinergic signaling mechanisms in health and disease. By describing some of these molecular mechanisms, we hope that we have been able to provide explanations for the phenotypes of many gene-positive patients.
Abbreviations
hGlyR:

Human glycine receptor
nAChR:

Nicotinic acetylcholine receptor
pLGIC:

Pentameric ligand-gated ion channel
TM:

Transmembrane.
Declarations
Acknowledgements
JWL is supported by a research fellowship from the National Health and Medical Research Council.
Authors' Affiliations
(1)
Queensland Brain Institute, The University of Queensland, Australia
(2)
Queensland Brain Institute and School of Biomedical Sciences, The University of Queensland, Australia
Copyright
© Bode and Lynch; licensee BioMed Central Ltd. 2014
This article is published under license to BioMed Central Ltd. This is an Open Access article distributed under the terms of the Creative Commons Attribution License (http://creativecommons.org/licenses/by/2.0), which permits unrestricted use, distribution, and reproduction in any medium, provided the original work is properly cited. The Creative Commons Public Domain Dedication waiver (http://creativecommons.org/publicdomain/zero/1.0/) applies to the data made available in this article, unless otherwise stated.