Requirement of the immediate early gene vesl-1S/homer-1a for fear memory formation
Received: 07 January 2009
Accepted: 05 March 2009
Published: 05 March 2009
Abstract
Background
The formation of long-term memory (LTM) and the late phase of long-term potentiation (L-LTP) depend on macromolecule synthesis, translation, and transcription in neurons. vesl-1S (V ASP/E na-related gene upregulated during s eizure and L TP, also known as homer-1a) is an LTP-induced immediate early gene. The short form of Vesl (Vesl-1S) is an alternatively spliced isoform of the vesl-1 gene, which also encodes the long form of the Vesl protein (Vesl-1L). Vesl-1L is a postsynaptic scaffolding protein that binds to and modulates the metabotropic glutamate receptor 1/5 (mGluR1/5), the IP3 receptor, and the ryanodine receptor. Vesl-1 null mutant mice show abnormal behavior, which includes anxiety- and depression-related behaviors, and an increase in cocaine-induced locomotion; however, the function of the short form of Vesl in behavior is poorly understood because of the lack of short-form-specific knockout mice.
Results
In this study, we generated short-form-specific gene targeting (KO) mice by knocking in part of vesl-1L/homer-1c cDNA. Homozygous KO mice exhibited normal spine number and morphology. Using the contextual fear conditioning test, we demonstrated that memory acquisition and short-term memory were normal in homozygous KO mice. In contrast, these mice showed impairment in fear memory consolidation. Furthermore, the process from recent to remote memory was affected in homozygous KO mice. Interestingly, reactivation of previously consolidated fear memory attenuated the conditioning-induced freezing response in homozygous KO mice, which suggests that the short form plays a role in fear memory reconsolidation. General activity, emotional performance, and sensitivity to electrofootshock were normal in homozygous KO mice.
Conclusion
These results indicate that the short form of the Vesl family of proteins plays a role in multiple steps of long-term, but not short-term, fear memory formation.
Keywords
Short FormFear MemoryContextual Fear ConditioningDark CompartmentFreezing Response
Background
Memory has at least two distinct forms, which include short-term and long-term memory, the latter of which lasts days, weeks, or years. Formation of long-term memory (LTM), but not short-term memory (STM), requires the synthesis of new RNA and protein [1]. In order to understand the molecular basis of memory storage, it is important to identify and characterize genes whose expression is altered during memory formation. Many studies have been carried out to identify neural activity-regulated genes potentially involved in the formation of LTM [2–9]. One of the candidates thus isolated is the vesl-1S/homer-1a gene [4, 10].
The
vesl-1
gene encodes three isoforms, which include Vesl-1S/Homer-1a, Vesl-1M/Ania-3, and Vesl-1L/Homer-1c, in mice (Figure
1
) [
11
,
12
]. The
vesl-1S
and
vesl-1M
mRNAs (short forms) genes are upregulated as immediate early genes during convulsive seizures and LTP [
4
,
10
]. In contrast, the
vesl-1L
mRNA (long form) is constitutively expressed. These proteins bind via their common N-terminal EVH-1 domain to group 1 metabotropic glutamate receptors (mGluRs), inositol tri-phosphate receptors (IP
3
Rs), ryanodine receptors (RyRs), the Shank family of postsynaptic scaffold proteins, and the C-type transient receptor potential channel (TRPC) [
11
–
17
]. Vesl-1L/Homer1c contains additional C-terminal sequences, which include a coiled-coil domain and a leucine zipper, via which they associate to form homo- and heteromultimers to function as a scaffold protein and interact with receptors [
11
,
12
,
14
]. Although the short forms of the Vesl protein contain the EVH-1 domain, they lack the C-terminal coiled-coil domain; therefore, the inducible short form Vesl-1 proteins are believed to act as endogenous dominant-negative regulators, as they compete with the long form Vesl protein to bind to receptors and channels.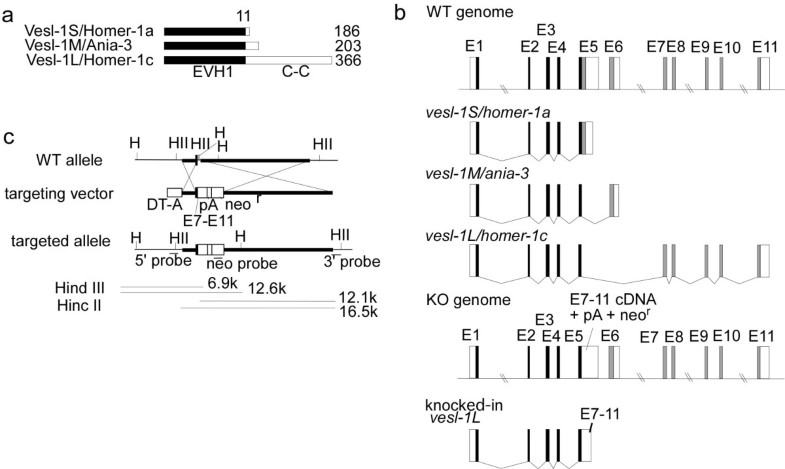 Studies using vesl-1 and vesl-2 null mutant mice reveal important roles for this family of proteins in addiction [18, 19], schizophrenia [20], and ethanol sensitivity [21]. Vesl-1S overexpression by in vivo AAV virus infection in rat hippocampus leads to impaired ability in the water maze test [22]. These observations strongly suggest that the Vesl-1 proteins play a role in the regulation of physiological functions and pathological behavior in vivo, via the modulation of glutamatergic transmission; however, the function of the short form of Vesl in memory formation is not well understood.
In this study, we used gene targeting techniques to generate short-form-specific KO mice, to clarify the role of the short form of Vesl-1 in LTM formation. The analysis of several behavioral paradigms demonstrated that specific KO of the short form affects several processes of fear memory formation.
Discussion
Short form Vesl is unique among the Vesl family proteins in that its expression is upregulated by various neural activities. Although Vesl-1 null mice have been generated [18, 37], short-form-specific KO mice are lacking. In this study, we generated short-form-specific KO mice by replacing the genomic DNA corresponding to the 11 amino acids unique to Vesl-1S with a cDNA encoding C-terminal amino acids of Vesl-1L. Expression of the Vesl-1L protein in homozygous mice was similar to that of wild type mice in terms of brain region specificity and expression levels; thus, we conclude that the homozygous mice were indeed short-form-specific KO mice with normal Vesl-1 long form function.
Extensive behavioral analyses revealed a role for the short form of Vesl-1 in multiple processes of fear memory formation. The impairments observed cannot be attributed to indirect effects that are caused by the absence of short form throughout development, as homozygous KO mice showed phenotypes (other than LTM formation) that were similar to those of WT mice. Adult KO mice showed normal behavior in the open-field test, the light-dark test, and the elevated plus-maze test. Spine number and spine morphology were normal in adult KO mice. Electrophysiological analyses revealed that the basal synaptic transmission profile was normal (KN, HK, AMW, NI, KI, and TM, unpublished results). Furthermore, KO mice showed no apparent deficit in STM; therefore, absence of the short form of Vesl-1 appears to specifically affect LTM formation.
Knockout mice displayed deficits in LTM when trained with a mild (three footshocks) training paradigm. This LTM deficit, however, was rescued by trained with a stronger paradigm (five footshocks). This suggests that the short form of Vesl-1 plays a role in LTM formation when repeated reinforcement of the learning paradigm is lacking.
What is the molecular mechanism underlying the LTM deficit in KO mice? A strong correlation between LTM storage and hippocampal L-LTP has been indicated in several reports in which deficits in L-LTP in gene-manipulated mice are accompanied by impairment in LTM formation of hippocampus-dependent learning [38–40]. Activation of mGluR5 is necessary for L-LTP, via the phosphorylation of p70 S6 kinase, which is a major regulator of translation required for the protein synthesis-dependent L-LTP [41]. Vesl-1 proteins modulate the function of mGluRs. For example, the short and long forms of Vesl-1 regulate the neuritic targeting of mGluR5. Vesl-1S expression triggers the translocation of mGluR5 to both the dendrites and axons of cultured cerebellar granule cells [42]. Furthermore, binding to Vesl directly modulates the antagonist-independent activity of mGluRs [43], thus, the KO of the short form of Vesl-1 may lead to improper regulation of synaptic mGluR function, which in turn disturbs the establishment of L-LTP. Alternatively, the short form of Vesl-1 is involved in L-LTP through the regulation of ryanodine receptors (RyRs). Vesl-1L regulates calcium release from RyRs and Vesl-1S reverses the effects of Vesl-1L on RyR1 and RyR2 [15, 16]. Because RyRs are involved in hippocampal L-LTP [44], dysfunction of RyR regulation in KO mice may lead to an impairment in L-LTP formation. This may result in a deficit in the consolidation of fear memory in KO mice.
This study further suggests that the short form of Vesl-1 is indispensable for the reconsolidation and within-session extinction of fear memory. mGluR5 is reported to be required for metaplasticity in hippocampal LTP [45]. Metaplasticity may be the physiological mechanism underlying memory reconsolidation. As mentioned above, Vesl-1S has the potential to regulate the function of mGluR5. We therefore suggest that disturbance of mGluR5 function in KO mice may affect metaplasticity, which in turn results in the defective reconsolidation and within-session extinction of fear memory.
Conclusion
In this study, we successfully generated short form Vesl-1-specific KO mice without affecting the expression of the long form of Vesl-1, which is a splicing isoform of the vesl-1 gene. Analyses of KO mice revealed an important role of the short form of Vesl-1 in the multiple processes involved in the formation of long-term fear memory.
Methods
Animal experiments
All animal experiments were carried out in accordance with the National Institutes of Health guide for the care and use of laboratory animals and were approved by the Animal Care and Use Committee of the Mitsubishi Kagaku Institute of Life Science, MITILS.
Targeting vector construct
A genomic DNA fragment from mouse 129 line including the vesl-1 gene region was cloned into the pBluescript II vector. The targeting construct was prepared using a DNA fragment containing a diphtheria toxin A fragment (DT-A) driven by the pgk promoter, a 1.5 kb NcoI-PstI fragment located in the 5' region of a vesl-1S-specific region in exon 5, a fragment containing exons 7–11 of the vesl-1L cDNA, a neo gene driven by the pgk promoter, an 11 kb KpnI-NotI fragment located 3' of the vesl-1S-specific region in exon 5, and the pBluescript plasmid (Figure 1c). This construct was designed to delete a vesl-1S-specific 394 bp fragment from the vesl-1 gene.
Generation of vesl-1 short form-specific KO mice
Knockout mice were generated following standard procedures in which the targeting vector was transfected into 129/ola ES cells. Homologous recombinants were injected into C57BL/6 blastocysts to obtain chimeric mice. Male mice in which germline transmission had occurred were mated with C57BL/6 females to generate heterozygotes. Heterozygous animals were backcrossed to C57BL/6 mice 10 times to coordinate the genetic background, and the resulting animals were intercrossed to obtain homozygotes. All behavioral experiments were carried out using these mice.
Northern blot analysis
Poly(A) RNA was isolated from whole brain using a commercial kit (Promega, Madison, WI). RNA was electrophoresed on a formaldehyde agarose gel. The gel was blotted onto an Immobilon-NY+ membrane (Millipore, Billerica, MA) and was then probed with full length vesl-1L fragment and reprobed with a fragment from G6PDH.
Western blotting
Adult mice were subjected to MECS (100 Hz, 60 mA, 0.5 msec width, 0.1 sec). After 3 or 5 h, cortices were dissected and frozen in liquid nitrogen and were then homogenized in 0.3 ml of lysis buffer (5 mM HEPES pH 7.4, 5 mM EDTA pH 8.0, 1 mM Na3VO4, 10 mM NaF, 10 μg/ml leupeptin, 10 μg/ml aprotinin, 1 mM Pefablock, 714 ng/ml Pepstatin, 0.32 M sucrose). The homogenates were centrifuged at 1000 × g and the resulting supernatants were centrifuged at 17000 × g. Protein concentration was determined using the CBB method. SDS sample buffer was added and the homogenates were boiled for 10 min. The homogenates were electrophoresed on a 4–20% SDS-polyacrylamide gel (MULTIGEL II Mini 4/20, Daiichi Pure Chemicals, Tokyo)and blotted to an Immobilon-P membrane (Millipore, Billerica, MA). The membrane was blocked with TBST (40 mM Tris-HCl pH 7.4, 137 mM NaCl, and 0.05% Tween 20) containing 5% dried milk, and was then blotted with an anti-Vesl-1L antibody [12, 27] and incubated with horseradish peroxidase (HRP)-conjugated secondary antibody. Signals were visualized using the enhanced chemiluminescence method (Supersignal West Femto Maximum sensitivity substrate, PIERCE, Rockford, IL).
Immunohistochemistry
Adult mice were subjected to MECS (100 Hz, 45 mA, 0.2 msec width, 0.3 sec). After 5 h, brains were freshly frozen in powdered dry ice. Frozen sections (10 μm thick) were fixed with 4% paraformaldehyde for 30 min, washed with PBS, blocked in 5% BSA, and incubated in PBS containing a rabbit anti-Vesl-1L-specific antibody overnight. Sections were then incubated with an FITC-conjugated rabbit IgG overnight and were mounted in glycerol-based solution (MERCK, Darmstadt, Germany).
Thionine staining
Adult mice were subjected to MECS (100 Hz, 45 mA, 0.2 msec width, 0.3 sec). After 3 h, brains were freshly frozen in powdered dry ice. Fresh frozen sections (10 μm thick) were fixed with 4% paraformaldehyde for 30 min, washed with PBS, and soaked in 0.1% thionine solution for 1 min. The samples were dehydrated serially from 70 to 100% ethanol, then 100% xylene, and were mounted in xylene-based mounting solution (MERCK, Darmstadt, Germany).
Analyses of spine morphology using a neurotracer
We injected 0.08 μl of 10% solution of an anterograde neurotracer (biotinylated dextran amine, Molecular Probes, Carlsbad, CA) into the dorsal hippocampus of mice under nembutal anesthesia. Four days after the tracer injection, brains were fixed by cardiac perfusion with 4% paraformaldehyde and sectioned to 40 μm. Sections were incubated with HRP-conjugated streptavidin (Roche, Basel, Switzerland), followed by diaminobentidine (DAB) (Molecular probes, Carlsbad, CA) and Nickel treatment. Neurons of the hippocampus near the injection sites were sometimes necrotic. In addition, pyramidal neurons of the cortical layer II-III appeared healthy and were more sparsely labeled than those of the hippocampus. The tracer may have leaked out from the needle tip at the corpus callosum, which interconnects pyramidal neurons in the cortical layer II-III. We analyzed the spines on the first dendrite of pyramidal neurons, which is the dendrite between the soma and the first branching point in cortical layer II-III of the somatosensory and auditory cortices.
We counted the number of spines on the first arborization of the dendrite by looking through the ocular lens and serially turning the focus of each spine image (Figure 4g), which allowed us to count the number of spines more precisely when compared with counting using photo images. The length of the first dendrites was assessed using the Metamorph software (Molecular Devices, Downingtown, PA).
To assess spine length and spine head width, we scanned images sequentially at every 50 nm. The best focused image for each spine was used to measure the length and the width of spines. The length of individual spines was measured from the tip of the spine head to the interface with the dendritic stalk. The spine width was assessed at the widest part of the head with a line that was drawn perpendicularly to the line used for the spine length assessment. The edge of DAB staining was ambiguous; therefore, the illumination conditions of the room were kept constant, which allowed us to relatively identify similar edges of staining at every day of investigation.
Contextual fear conditioning
Mice used for behavioral experiments were prepared using in vitro fertilization technique. Male mice were separated from females at birth and were nursed exclusively among males (maximum 10 males per cage) by foster female parents. Mice were kept on a 12 hr light/dark schedule. Mice of 11–18 weeks of age were used at the start of behavioral experiments. Mice were handled daily for 5 min for 5 consecutive days prior to behavioral experiments, to reduce stress. The apparatus and experimental conditions used for contextual fear conditioning were described previously [46]. Briefly, the dimensions of the apparatus were 16.5 cm × 17.5 cm × 30 cm, which contained 26 stainless steel rods from which electrofootshocks were delivered. Mice were placed into the chamber for 2 min, and the conditioned stimuli (the experimental chamber and context) were paired with aversive and unconditioned electric footshocks that consisted of the administration of 3, 5, or 8 times of 0.5 mA 0.5 sec shocks at 1 min intervals. Mice were then left for 3 min in the chamber. Conditioned freezing responses were automatically detected (NIH Image FZ2.15mr, OHARA IKA, Tokyo), which were characterized by an immobile and crouching posture observed upon subsequent presentation of the conditioned stimuli.
Open-field test
General activity levels were measured using an open field. The apparatus and the conditions used were described previously [46]. The activity of animals placed in the open-field (50 × 50 cm) chamber were monitored for 30 min on 24 beams placed 2 cm above the floor and 48 beams placed 2 and 6 cm above the floor on another 2 faced side of the chamber. Locomotor distance and the number of rearings were automatically calculated (beam style small animal behavioral analyzing system version 2.0, MUROMACHI KIKAI, Tokyo).
Light-dark test
The apparatus and conditioning used in this test were described previously [46]. The number of transitions from the light to the dark compartment and the stay time in the dark compartment were automatically calculated.
Elevated plus-maze test
The apparatus used in this test consisted of a central platform (5 × 5 cm) and four arms (25 × 5 cm) placed 48 cm above the floor. Two arms were enclosed within translucent walls (15 cm high) and the other two arms (open) had low rims (1 cm high). Mice were placed in the center of the apparatus and their behavior was recorded for 10 min with a video camera located above the maze. The traveling distance and the stay time in the closed arms were automatically calculated.
Electro sensitivity test
The general method used in this test was described previously [46]. After contextual fear conditioning test, mice were reentered into the conditioning chamber and were subjected to electrofootshocks ranging from weak electrical current to strong electrical current, in turn. The minimum electrical current value at which mice showed the first symptom of running, vocalization, or jumping was measured.
Declarations
Acknowledgements
We thank Ms. E. Tokunaga for genotyping the KO mice, and Dr. S. Kamijo and Ms. M. Matsuo for maintenance of the KO mice. This work was supported by the Special Coordinate Funds for Promoting Science and Technology from MEXT of the Japanese Government (K.I.), and supported in part by Grants-in-Aid for Scientific Research on Priority Areas ("Neural Circuit Project", "Advanced Brain Science Project", and "Molecular Brain Science Project ") from MEXT of the Japanese Government (K.I.).
Authors' Affiliations
(1)
Mitsubishi Kagaku Institute of Life Sciences, MITILS, Machida, Tokyo, Japan
(2)
Department of Mental Retardation and Birth Defect Research, National Institute of Neuroscience, Tokyo, Japan
(3)
Division of Molecular Genetics, Department of Physiology and Cell Biology, Kobe University Graduate School of Medicine, Kobe, Japan
(4)
Institute of Medical Science, University of Tokyo, Tokyo, Japan
(5)
Department of Pharmacy, Chiba Institute of Science, Choshi, Chiba, Japan
(6)
Laboratory for Animal Resources and Genetic Engineering, RIKEN Center for Developmental Biology, Kobe, Japan
(7)
CREST, Japan Science and Technology Agency, Kawaguchi, Japan
Copyright
© Inoue et al; licensee BioMed Central Ltd. 2009
This article is published under license to BioMed Central Ltd. This is an Open Access article distributed under the terms of the Creative Commons Attribution License (http://creativecommons.org/licenses/by/2.0), which permits unrestricted use, distribution, and reproduction in any medium, provided the original work is properly cited.