Transcriptional dysregulation of 5-HT1A autoreceptors in mental illness
Received: 1 April 2011
Accepted: 27 May 2011
Published: 27 May 2011
Abstract
The serotonin-1A (5-HT1A) receptor is among the most abundant and widely distributed 5-HT receptors in the brain, but is also expressed on serotonin neurons as an autoreceptor where it plays a critical role in regulating the activity of the entire serotonin system. Over-expression of the 5-HT1A autoreceptor has been implicated in reducing serotonergic neurotransmission, and is associated with major depression and suicide. Extensive characterization of the transcriptional regulation of the 5-HT1A gene (HTR1A) using cell culture systems has revealed a GC-rich "housekeeping" promoter that non-selectively drives its expression; this is flanked by a series of upstream repressor elements for REST, Freud-1/CC2D1A and Freud-2/CC2D1B factors that not only restrict its expression to neurons, but may also regulate the level of expression of 5-HT1A receptors in various subsets of neurons, including serotonergic neurons. A separate set of allele-specific factors, including Deaf1, Hes1 and Hes5 repress at the HTR1A C(-1019)G (rs6295) polymorphism in serotonergic neurons in culture, as well as in vivo. Pet1, an obligatory enhancer for serotonergic differentiation, has been identified as a potent activator of 5-HT1A autoreceptor expression. Taken together, these results highlight an integrated regulation of 5-HT1A autoreceptors that differs in several aspects from regulation of post-synaptic 5-HT1A receptors, and could be selectively targeted to enhance serotonergic neurotransmission.
Keywords
Raphe NucleusMinimal PromoterAcute Tryptophan DepletionAntidepressant ResponseSerotonergic Neurotransmission
Serotonin in Major Depression
Major depression is a common and severe mental illness with a lifetime prevalence of 15% (1 in 6) compared with 1% for schizophrenia, and is twice as frequent in women as in men [1, 2]. In developed countries, MDD currently accounts for the second highest lifetime burden of disease, and is forecast to be highest by 2030 [3–7]. With current antidepressant treatments, although up to 60% of patients respond, only 30% go on to remission [8–13], and 15% attempt suicide [14, 15]. Although other neurotransmitters (e.g., noradrenaline, dopamine, glutamate, neurotrophins) are indirectly involved in depression [16–21], multiple lines of evidence implicate reduced 5-HT neurotransmission as a primary defect in depression [22–30]. For example, acute tryptophan depletion triggers relapse in recovered depressed patients, and elicits a depressed mood in normal subjects, while most antidepressant treatments, including serotonin-selective reuptake inhibitor (SSRIs), increase 5-HT neurotransmission either directly or indirectly [20, 31–34]. Alterations in 5-HT1A receptor levels are commonly observed in depressed individuals. In particular, post-synaptic 5-HT1A receptors are reduced in several cortical regions in depression [35–39] and anxiety [40–45], while 5-HT1A autoreceptors are increased in depression [46–48]. Elevated 5-HT1A autoreceptor expression would tend to reduce the activity of 5-HT neurons, while reduced post-synaptic 5-HT1A receptors would result in a blunted behavioral response to 5-HT. These studies implicate the 5-HT1A receptor as an important determinant of predisposition to mental illness. However, the mechanisms underlying these differential changes in 5-HT1A receptor expression remain unclear. This review examines the evidence that alterations in transcriptional regulation of the 5-HT1A receptor could underlie its dys-regulation in mental illness.
5-HT1A receptors and the 5-HT system
Transcriptional Regulation of the 5-HT1A Receptor Gene
Because acute desensitization (uncoupling and internalization) occurs rapidly (sec-min) and is rapidly reversible [
143
,
144
], we postulated that reduced transcription of 5-HT1A autoreceptors could account for the three-week delay in clinical response following antidepressant treatment [
108
,
142
,
145
]. Supporting this hypothesis, transgenic mice with only 30% repression of 5-HT1A autoreceptors display an enhanced and rapid response to SSRIs [
132
], suggesting that transcriptional repression of the 5-HT1A autoreceptor could be key to an effective antidepressant response. In characterizing the 5-HT1A promoter, we have uncovered a number of important regulators at the minimal promoter, upstream repressor and enhancer regions, as well as at a C(-1019)G polymorphism, that could affect 5-HT1A autoreceptor expression (Figure
4
).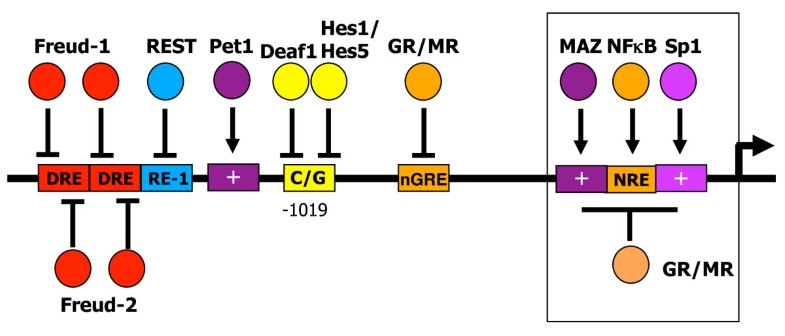 5-HT1A Autoreceptors in Human Depression
Given the role of 5-HT1A autoreceptors in regulation of the serotonin system and the importance of 5-HT in clinical depression, several approaches have addressed whether 5-HT1A receptor expression is altered in depression. In depressed subjects, the observed increases in 5-HT1A autoreceptors could be due to increased 5-HT1A autoreceptor transcription, while region-specific reductions in post-synaptic 5-HT1A receptors could result from reduced transcription in these regions. These changes in 5-HT1A receptors would result in a global reduction in 5-HT neurotransmission, and predisposition to depression (Figure 5). In agreement with this idea, the G(-1019) 5-HT1A allele, which leads to increased 5-HT1A autoreceptor transcription, has been associated with major depression and suicide [175], and this association has been replicated and extended in most [174, 179, 181, 190–197], but not all studies [198]. The 5-HT1A G(-1019) allele has also been associated with anxiety [199–202]. Importantly, the 5-HT1A G/G genotype is associated with increased 5-HT1A autoreceptors in depressed subjects [179–181], suggesting that 5-HT1A G(-1019) allele is a risk factor for depression by increasing 5-HT1A autoreceptor levels to reduce 5-HT neurotransmission [108, 145]. Interestingly, studies in normal subjects have not found an association of the G/G genotype with depressed or anxious mood [203]. Furthermore, in normal subjects, although a trend for increased 5-HT1A autoreceptor levels with the G/G genotype is observed, it was not statistically significant [204]. These results suggest that although the G-allele may promote higher expression of 5-HT1A autoreceptors (Figure 5), normal subjects are able to compensate for the effect of the G allele, while depressed patients are not. For example, the absolute level of 5-HT1A receptors may differ between depressed and normal subjects due to differences in the regulation of 5-HT1A expression (e.g., by increased glucocorticoids) or in the expression of 5-HTT, TPH2, MAO or other genes that influence the amount of 5-HT that is present extracellularly in the raphe [205, 206] and would indirectly affect the level of 5-HT1A autoreceptors through regulating autoreceptor desensitization. In addition, it is possible that impairment of Deaf1 action could account for increased levels of 5-HT1A autoreceptors in G/G subjects, and could also mediate a reduction in post-synaptic 5-HT1A receptors, suggesting Deaf1 as a potentially important mediator of transcriptional dys-regulation of the 5-HT1A receptor gene in depression.
An increase in 5-HT1A autoreceptor levels delays or prevents antidepressant response [132] and 3 weeks of treatment with antidepressants is required for clinical improvement, due to recurrent inhibition of raphe activity by the 5-HT1A autoreceptor (Figure 2). One strategy to overcome negative feedback by 5-HT1A autoreceptor has been to use 5-HT1A partial agonists such as pindolol or buspirone, to block or desensitize the autoreceptor and accelerate SSRI action [207–209]. However, these compounds have insufficient specificity since they affect both pre-and post-synaptic receptors, and display only partial specificity for 5-HT1A autoreceptors [210, 211]. We and others have found that the G(-1019) allele associates with reduced antidepressant response [174, 212–214], suggesting that regulation by Deaf1 could facilitate antidepressant response. Successful treatment of panic disorder patients with chronic SSRIs correlates with a normalization of pre- and post-synaptic 5-HT1A receptors, suggesting that down-regulation of pre-synaptic receptors concomitant with an up-regulation of post-synaptic 5-HT1A receptors may be critical for treatment response [45, 215]. Among the transcriptional regulators of the 5-HT1A promoter, Deaf1 is of particular interest since it displays repressor activity on 5-HT1A autoreceptor expression, but enhancer activity on post-synaptic 5-HT1A receptors, a combination of activities that would normalize pre- and post-synaptic 5-HT1A receptor levels to enhance serotonergic neurotransmission.
Conclusion
In conclusion, since dys-regulation of the 5-HT1A autoreceptor has the potential to affect the activity of the entire 5-HT system, it is critical to identify the transcriptional mechanisms underlying its long-term regulation. Understanding the transcription factors involved may provide important clues to the molecular mechanisms responsible for 5-HT1A receptor dys-regulation in mental illness. Transcriptional regulators of the 5-HT1A autoreceptor may also constitute important targets to restore normal levels of the receptor and improve treatment outcome for depression and related mental illnesses.
Declarations
Acknowledgements
We wish to acknowledge grant support from the Canadian Institutes of Health Research (CIHR), Canadian Psychiatric Research Foundation, Heart and Stroke Foundation Centre for Stroke Recovery, and the Ontario Mental Health Foundation; A.M. was supported by a scholarship from CIHR.
One of a series of four reviews on G protein-coupled receptors published in memory of Hubert H. M. Van Tol (1959-2006), formerly Head of Molecular Biology at the Centre for Addiction and Mental Health, and a Professor in the Departments of Psychiatry and Pharmacology at the University of Toronto. Hubert's contributions to G protein-coupled receptor research and neuroscience are numerous and are best remembered by his central role in the cloning of the dopamine receptor family. His many achievements were recognized through awards such as the John Dewan award, The Prix Galien, and the Joey & Toby Tanenbaum Distinguished Scientist Award for Schizophrenia Research.
Authors' Affiliations
(1)
Ottawa Hospital Research Institute (Neuroscience), University of Ottawa, Ottawa, Canada
Copyright
© Albert et al; licensee BioMed Central Ltd. 2011
This article is published under license to BioMed Central Ltd. This is an Open Access article distributed under the terms of the Creative Commons Attribution License (http://creativecommons.org/licenses/by/2.0), which permits unrestricted use, distribution, and reproduction in any medium, provided the original work is properly cited.