Targeting NMDA receptors in stroke: new hope in neuroprotection
Received: 15 January 2018
Accepted: 1 March 2018
Published: 13 March 2018
Abstract
NMDA (N-methyl-d-aspartate) receptors (NMDARs) play a central role in excitotoxic neuronal death caused by ischemic stroke, but NMDAR channel blockers have failed to be translated into clinical stroke treatments. However, recent research on NMDAR-associated signaling complexes has identified important death-signaling pathways linked to NMDARs. This led to the generation of inhibitors that inhibit these pathways downstream from the receptor without necessarily blocking NMDARs. This therapeutic approach may have fewer side effects and/or provide a wider therapeutic window for stroke as compared to the receptor antagonists. In this review, we highlight the key findings in the signaling cascades downstream of NMDARs and the novel promising therapeutics for ischemic stroke.
Keywords
Ischemic strokeNMDA receptorsExcitotoxicityDeath signaling complexesNeuroprotection
Introduction: stroke epidemiology and need for effective therapeutics
Stroke is the second most common cause of death and the third most common cause of disability worldwide. In 2010, about 10% of all deaths and 4% of DALYs lost (disability adjusted life years) were caused by stroke [1]. It consumes near 4% of total health care costs each year and creates a huge burden on the health care system [2]. With an aging global population, the mortality rate and burden due to stroke will keep increasing. By 2030, stroke is estimated to cause 12 million deaths, and more than 200 million DALYs lost globally [1].
The two main types of stroke are ischemic and hemorrhagic. Ischemic strokes comprise about 87% of all strokes [2]. Ischemic stroke arises from a thrombotic or embolic blockage of brain arteries resulting in limited blood flow to the affected brain tissue, followed by energy depletion. This triggers a series of complex pathophysiological events including the disruption of ionic homeostasis, accumulation of synaptic and extrasynaptic glutamate, ion channel dysfuntion, membrane and DNA damage, inflammation and so on, eventually lead to neuronal cell death and ischemic brain injury [3–6].
So far the only FDA-approved pharmacotherapy for acute stroke is with intravenous thrombolytic therapy using recombinant tissue plasminogen activator (rtPA) [7, 8]. However, this agent has a 3–4.5 h therapeutic window, and risks producing an intracerebral hemorrhage (6–7% cases). This has limited the use of rtPA to only about 5% of all stroke patients [2, 9–11]. Thus there remains a significant unmet medical need for identifying more effective and safer stroke drugs.
For the past decades, extensive research has advanced our understanding of the stroke pathology. Excitotoxicity mediated by N-methyl-D-aspartate (NMDA) type of glutamate receptors has been at the center stage of stroke research. In this review, we highlight recent key findings in ischemic cell death signaling pathways linked to or downstream of NMDARs and newly developed drug candidates that act as neuroprotectants, agents that reduce the vulnerability of ischemic brain to ischemia.
Understanding stroke: excitotoxicity and NMDA receptors
Excitotoxicity is among the first identified, and most intensively studied ischemic cell death mechanism. The term "excitotoxicity" describes the process in which excess quantities of the excitatory neurotransmitter glutamate over-activates NMDARs and induces neuronal toxicity [12–14]. This has been considered as one of the major pathogenic mechanisms underlying ischemic brain injury [4, 15, 16].
During ischemia, restricted cerebral blood flow depletes the supply of oxygen and nutrients that are required by neurons to maintain ionic homeostasis [4]. Disrupted ionic gradients depolarize the cell and, among other things, trigger the release of excitatory neurotransmitters, namely glutamate, into the synaptic space. At the same time, energy depletion also impairs the function of re-uptake transporters so they are unable to clear excess glutamate. This results in the accumulation of excitatory glutamate in the extracellular space and the consequent over-activation of glutamate receptors of post-synaptic neurons.
Ionotropic glutamate receptors are ligand-gated ion channels that allow rapid ion influx in response to glutamate and comprise the gateway to excitotoxicity [17–20]. They contain both an extracellular glutamate binding site and a transmembrane ion channel. The two main subtypes of ionotropic glutamate receptors are NMDA (N-methyl-d-aspartate) receptors (NMDARs) and AMPA (α-amino-3-hydroxy-5-methylisoxazole-4-propionic acid) receptors (AMPARs). At the resting state, the channel pores of NMDARs are normally blocked by Mg2+. When glutamate is released from pre-synaptic sites, activated AMPARs cause a partial depolarization in the post-synaptic membrane sufficient to remove the Mg2+ block from NMDARs. Once NMDARs are activated, they flux Na+ and Ca2+ into the cell. The Ca2+ influx through NMDARs is not only critical for the normal physiological processes in neurons, but also plays a major role in initiating ischemic cell death [17–19, 21]. In excitotoxicity, excess glutamate release results in over-activation of NMDARs and leads to calcium overload inside the neurons. Calcium overload triggers a range of downstream pro-death signaling events such as calpain activation [22, 23], reactive oxygen species (ROS) generation [24–26], and mitochondrial damage [4, 24, 27], resulting in cell necrosis or apoptosis.
Given the pivotal role of NMDAR in excitotoxicity, the initial therapeutic approach was to block the receptors [4, 7, 28]. NMDAR antagonists were designed to target different sites: non-competitive antagonists that block the ion channels, competitive antagonists that prevent excitatory neurotransmitters from binding to the glutamate recognition site, and glutamate release inhibitors that blocked presynaptic voltage sensing Na+ channels [29]. In pre-clinical studies in rats, NMDAR antagonists protected neurons from ischemic death in a model of middle cerebral artery occlusion (MCAO). The MCA can be occluded either transiently or permanently in these models, producing strokes of various severity [30–33]. However, despite initial promise in rodents such as rats, NMDAR antagonists have failed to be translated for clinical use in acute stroke [6, 34]. The explanation for these failures of translation is likely multi-factorial [7]. Two important drawbacks are the short therapeutic time window, and dose-limiting safety concerns [16, 29, 35]. The NMDAR antagonists have to be administered either before or immediately after stroke to be effective [7, 35, 36]. In addition, the NMDAR antagonists can cause severe side effects such as nausea, vomiting, cardiovascular and psychomimetic effects in treated patients [35, 37–39]. In retrospect it appears that NMDAR blockade will interfere with normal neuronal function and cause substantial side effects at potentially therapeutic doses.
Due to the lack of clinical success with NMDA receptor antagonists, the focus of stroke neuroprotection shifted towards the identification of downstream intracellular signaling pathways triggered by NMDARs.
NMDA receptors: dual roles in neuronal survival and death
Structurally, NMDARs are heterotetramers formed by two GluN1 subunits and two glutamate binding GluN2 subunits. The GluN2 subunits can be GluN2A-GluN2D, as well as GluN3A and GluN3B, all of which have distinguishing properties and expression patterns in the CNS [
40
]. The most widely expressed NMDARs contain GluN1 subunits in combination with either GluN2B or GluN2A. NMDARs play central roles in synaptic plasticity, brain development, learning and memory [
41
,
42
]. However, when excessively activated in ischemic stroke, NMDARs initiate toxic cascades that kill the neurons. Recent studies suggest that the dual roles of NMDARs in neuronal survival and death may depend on the subcellular locations and subtypes of the receptors that are activated [
16
,
43
–
46
] (Fig.
1
).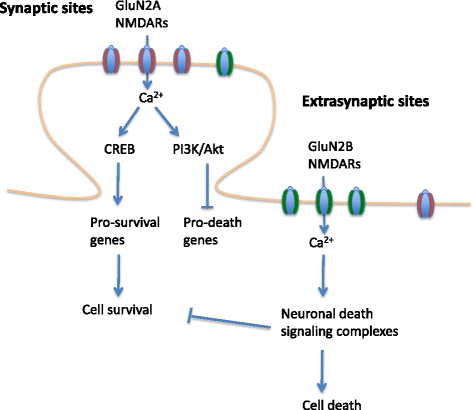 In the receptor location hypothesis, stimulating synaptic NMDARs activates pro-survival signaling pathways, whereas the activation of extrasynaptic NMDARs is associated with pro-death pathways. Synaptic NMDAR stimulation activates the PI3K (Phosphoinositide-3-kinase)/AKt kinase pathway, CREB (cAMP-response element binding protein)-dependent gene expression and suppression of pro-death genes, all of which contribute to pro-survival effects [46]. Upon NMDAR opening, PI3K is activated by Ca2+ and calmodulin that phosphorylate membrane phospholipid PtdIns(4,5)P2) to PtdIns(3,4,5)P3 [47]. PtdIns(3,4,5)P3 interacting kinase PDK1 (phosphoinositide dependent protein kinase1) is then recruited to the membrane and activates Akt by phosphorylation [48]. Akt promotes cell survival by phosphorylating a number of downstream targets. It inactivates GSK3β (glycogen synthase kinase 3β), pro-apoptotic Bcl-2 associated death promotor BAD [49], JNK (c-Jun N-terminal Kinase)/p38 activator ASK1 (apoptosis signal-regulating kinase 1) [50], and apoptotic p53 [51]. Synaptic NMDAR activation also induces the expression of pro-survival genes. Synaptic NMDAR activity and Ca2+ influx activates the Ras/ERK (extracellular signal regulated kinase) signaling and nuclear CAMKs (Ca2+/calmodulin dependent protein kinases), which then phosphorylates and activates CREB [52, 53]. Activation of CREB induces the expression of pro-survival genes that protect the neurons against apoptotic insults. CREB target genes include anti-apoptotic BTG2, apoptotic p53 suppressor BCL6, and survival promoting neurotrophin BDNF (brain derived neurotrophic factor) [44, 46].
In contrast with the pro-survival effect of synaptic NMDAR activities, extrasynaptic NMDARs are associated with pro-death signaling pathways. The activated extrasynaptic NMDARs attenuate the pro-survival signaling mediated by the synaptic NMDARs. For example, the activation of extrasynaptic NMDARs dephosphorylates and inactivates CREB [44]. They also dephosphorylate and inactivate ERK pathway, which prevents the activation of CREB and promote the expression of pro-death genes [46, 54]. Weak NMDAR antagonists such as memantine can selectively block extrasynaptic NMDARs, suggesting that there is a potential to modulate the balance between pro-survival and pro-death signaling in ischemic stroke [55, 56].
In addition, different NMDAR subunit combinations (receptor subtypes) may recruit different downstream signaling complexes resulting in distinct functional effects. GluN2A- and GluN2B-containing NMDARs are the two predominant types of NMDARs in the adult forebrain. During early development, GluN2B-containing NMDARs are abundant in the prenatal brain and then decreases postnatally, while the expression of GluN2A-containing NMDARs increases with development [40]. In the adult brain, GluN2B-containing NMDARs are enriched in the extrasynaptic sites, whereas GluN2A-containing NMDARs are highly expressed at the synapse. The GluN2A- and GluN2B- containing NMDARs also play different roles in response to ischemic insults: activation of either synaptic or extrasynaptic GluN2B-containing NMDARs results in excitotoxicity and neuronal apoptosis, whereas activation of synaptic or extrasynaptic GluN2A-containing NMDARs leads to neuronal survival and neuroprotection against ischemic insults [57, 58].
Given the dual roles of NMDARs, it would be ideal to selectively inhibit only the pro-death signaling from the receptors and not interfere with pro-survival pathways. One approach could be the targeting of extrasynaptic/GluN2B-containing NMDARs. However, the segregation of the different NMDAR subunits among synaptic vs. extrasynaptic sites is not absolute, hence blocking the extrasynaptic GluN2B-containing NMDARs may still antagonize synaptic GluN2A-containing NMDARs [5].
Targeting NMDAR pro-death pathways: potential therapeutics
An alternative to selectively targeting GluN2B- containing NMDARs may be to selectively target pro-death mechanisms downstream of NMDARs. This approach has shown significant promise in neuroprotection.
Concluding remarks and future directions
NMDARs are essential in supporting neuronal functions under physiological functions, and also play a central role in excitotoxicity that causes neuronal death after ischemic stroke. Early treatments blocking NMDARs with antagonists failed to be translated into successful clinical neuroprotective therapies, mainly due to poor tolerance of the drugs and a short therapeutic time window. Because of the dual roles of NMDARs in pro-survival and pro-death signaling in neurons, NMDAR antagonism may eliminate survival signaling and impair neuronal function, resulting in severe adverse effects. Thus it would be better to selectively block only the pro-death effects of NMDARs while leaving pro-survival pathways intact. Moreover, once activated NMDARs trigger downstream pro-death signaling pathways, blocking the receptors may no longer be effective.
Now our understanding of ischemic mechanisms is evolving. Recent research has identified several key signaling complexes and downstream effectors in mediating neuronal death in excitotoxicity. Based on this knowledge, interfering peptides and pharmacological inhibitors have been developed to specifically uncouple the neuronal death signaling from NMDARs without affecting the functional and survival signaling of the receptors (Fig.
5
). In addition, because these new potential therapeutics target the downstream pathways of NMDARs, they may provide a wider therapeutic time window.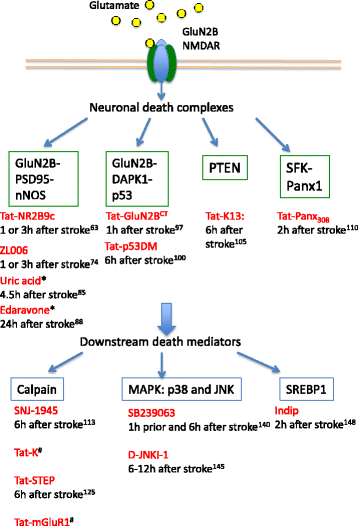 Given the new advancements in stroke research as discussed above, the relative importance and interplay among these signaling pathways still remains to be determined. In addition, combining multiple therapies that target different pathways in stroke may have a synergistic effect in neuroprotection. Future experiments may be conducted to test the safety and efficacy of combined treatments in preventing ischemic injury.
Furthermore, ischemic stroke and neurodegenerative diseases are commonly concurrent in patients [150, 151], suggesting an overlap of pathologies in neurological diseases. Therefore, a knowledge of ischemic cell death signaling and the identified neuroprotective candidates may also benefit the development of therapies for other neurological disorders.
Abbreviations
AIF:

Apoptosis inducing factor
AMPAR:

α-amino-3-hydroxy-5-methylisoxazole-4-propionic acid receptors
ASK1:

Apoptosis signal-regulating kinase 1
CAMKs:

Ca2+/calmodulin dependent protein kinases
CREB:

cAMP-response element binding protein
DAPK1:

Death-associated protein kinase 1
ERK:

Extracellular signal-regulated kinase
INSIG1:

Insulin-induced gene 1
JNK:

c-Jun N-terminal Kinase
Kidins220:

Kinase D-interacting substrate of 220 kDa
MAPK:

Mitogen activated protein kinases
MCAO:

Occlusion of the middle cerebral artery
NCX3:

Sodium-calcium exchanger
NMDAR:

N-methyl-d-aspartate receptors
nNOS:

Nitric oxide synthase
OGD:

Oxygen glucose deprivation
PI3K:

Phosphoinositide-3-kinase
PSD95:

Postsynaptic density protein95
PTEN:

Phosphatase and tensin homolog deleted on chromosome ten
rtPA:

Recombinant tissue plasminogen activator
STEP:

Striatal enriched protein tyrosine phosphatase
Declarations
Acknowledgements
Not applicable.
Funding
This work was supported by funds from the Canada Research Chairs program.
Availability of data and materials
Not applicable.
Authors' contributions
QJW prepared the manuscript and constructed the figures. MT edited the manuscript and figures. Both authors read and approved the final manuscript.
Ethics approval and consent to participate
Not applicable.
Consent for publication
Not applicable.
Competing interests
Dr. Michael Tymianski is M.T. is a Canada Research Chair (Tier 1) in Translational Stroke Research, and the CEO of NoNO Inc., a biotechnology company developing NA-1 for clinical use. QJW has no competing interests.
Publisher's Note
Springer Nature remains neutral with regard to jurisdictional claims in published maps and institutional affiliations.
Open Access This article is distributed under the terms of the Creative Commons Attribution 4.0 International License (http://creativecommons.org/licenses/by/4.0/), which permits unrestricted use, distribution, and reproduction in any medium, provided you give appropriate credit to the original author(s) and the source, provide a link to the Creative Commons license, and indicate if changes were made. The Creative Commons Public Domain Dedication waiver (http://creativecommons.org/publicdomain/zero/1.0/) applies to the data made available in this article, unless otherwise stated.
Authors' Affiliations
(1)
Krembil Research Institute, University Health Network, Toronto, Canada
(2)
Department of Physiology, University of Toronto, Toronto, Canada
(3)
Division of Neurosurgery, University of Toronto, Toronto, Canada