Expression of functional inhibitory neurotransmitter transporters GlyT1, GAT-1, and GAT-3 by astrocytes of inferior colliculus and hippocampus
Received: 16 October 2017
Accepted: 3 January 2018
Published: 25 January 2018
Abstract
Neuronal inhibition is mediated by glycine and/or GABA. Inferior colliculus (IC) neurons receive glycinergic and GABAergic inputs, whereas inhibition in hippocampus (HC) predominantly relies on GABA. Astrocytes heterogeneously express neurotransmitter transporters and are expected to adapt to the local requirements regarding neurotransmitter homeostasis. Here we analyzed the expression of inhibitory neurotransmitter transporters in IC and HC astrocytes using whole-cell patch-clamp and single-cell reverse transcription-PCR. We show that most astrocytes in both regions expressed functional glycine transporters (GlyTs). Activation of these transporters resulted in an inward current (IGly) that was sensitive to the competitive GlyT1 agonist sarcosine. Astrocytes exhibited transcripts for GlyT1 but not for GlyT2. Glycine did not alter the membrane resistance (RM) arguing for the absence of functional glycine receptors (GlyRs). Thus, IGly was mainly mediated by GlyT1. Similarly, we found expression of functional GABA transporters (GATs) in all IC astrocytes and about half of the HC astrocytes. These transporters mediated an inward current (IGABA) that was sensitive to the competitive GAT-1 and GAT-3 antagonists NO711 and SNAP5114, respectively. Accordingly, transcripts for GAT-1 and GAT-3 were found but not for GAT-2 and BGT-1. Only in hippocampal astrocytes, GABA transiently reduced RM demonstrating the presence of GABAA receptors (GABAARs). However, IGABA was mainly not contaminated by GABAAR-mediated currents as RM changes vanished shortly after GABA application. In both regions, IGABA was stronger than IGly. Furthermore, in HC the IGABA/IGly ratio was larger compared to IC. Taken together, our results demonstrate that astrocytes are heterogeneous across and within distinct brain areas. Furthermore, we could show that the capacity for glycine and GABA uptake varies between both brain regions.
Keywords
Inferior colliculusHippocampusGlyT1GAT-1GAT-3
Introduction
Glycine and GABA mediate synaptic inhibition in matured circuits. Glycinergic and GABAergic inhibition are attributed predominantly to caudal and rostral brain regions, respectively. Nonetheless, both neurotransmitters coexist throughout the whole brain.
Mixed inhibitory synaptic transmission, with co-release of glycine and GABA from the same presynaptic terminal, takes place in various caudal brain regions, such as auditory brainstem, ventral respiratory group, cerebellum, and spinal cord [1–8]. In more rostral brain regions, like the hippocampus (HC), GABA is utilized for inhibitory synaptic transmission [9, 10], while glycine co-released from glutamatergic terminals can modulate NMDA receptor (NMDAR)-mediated signaling [11, 12]. Accordingly, glycine transporters (GlyTs) and GABA transporters (GATs) are widely expressed in astrocytes and neurons [13–16] to enable neurotransmitter clearance, reuptake, and modulation of neuronal signaling [15, 17, 18]. Astrocytes mainly express GlyT1 (Slc6A9), GAT-1 (Slc6A1), and/or GAT-3 (Slc6A11), which mediate an inward current and concomitant depolarization [19]. In addition, astrocytes can express ionotropic receptors for glycine (GlyRs) and GABA (GABAARs) [20–26].
In a previous study, we analyzed the expression of functional GlyTs and GATs in astrocytes in the lateral superior olive (LSO) – a conspicuous auditory brainstem center whose main inhibitory input is glycinergic after early postnatal development [
2
,
3
]. Astrocytes in this nucleus express functional GlyT1, GAT-1, and GAT-3 [
19
]. To study the region-dependent heterogeneity of GlyT and GAT expression in astrocytes, we chose two systems that contrast the LSO with respect to the utilization of glycine and GABA for inhibitory synaptic transmission: 1) The inferior colliculus (IC) residing in the midbrain belongs to the rostral part of the auditory brainstem and serves as a major hub for processing auditory cues [
4
,
27
]. Afferents from all auditory brainstem centers converge in the lateral lemniscal tract (LL) and project to the IC (Fig.
1a
) [
4
,
8
,
28
]. The inhibitory part of the tract consists of glycinergic and GABAergic projections [
8
,
29
–
31
]. Accordingly, IC astrocytes can be proposed to express GlyTs and GATs to account for neurotransmitter uptake. GlyT1 expression was found in the IC and attributed to glial cells [
11
,
13
,
32
]. Likewise, GAT-1 and GAT-3 are present in the IC [
33
,
34
]. However, GlyTs and GATs in IC astrocytes have not yet been electrophysiologically characterized. 2) The HC is the second system of interest. Whereas its main circuitry is glutamatergic [
35
,
36
], inhibitory synaptic transmission arises from GABAergic interneurons [
9
,
10
]. In line with this, astrocytes in the
stratum radiatum
express GAT-3, whereas GAT-1 has been attributed to interneurons [
21
,
37
]. Glycine is co-released from glutamatergic terminals and modulates NMDAR-mediated signaling [
11
,
12
]. For uptake of released glycine, GlyT1 is expressed in astrocytes and presynaptic terminals [
11
,
38
–
40
]. However, functionality of GlyT1 in HC astrocytes has not been demonstrated prior to this study.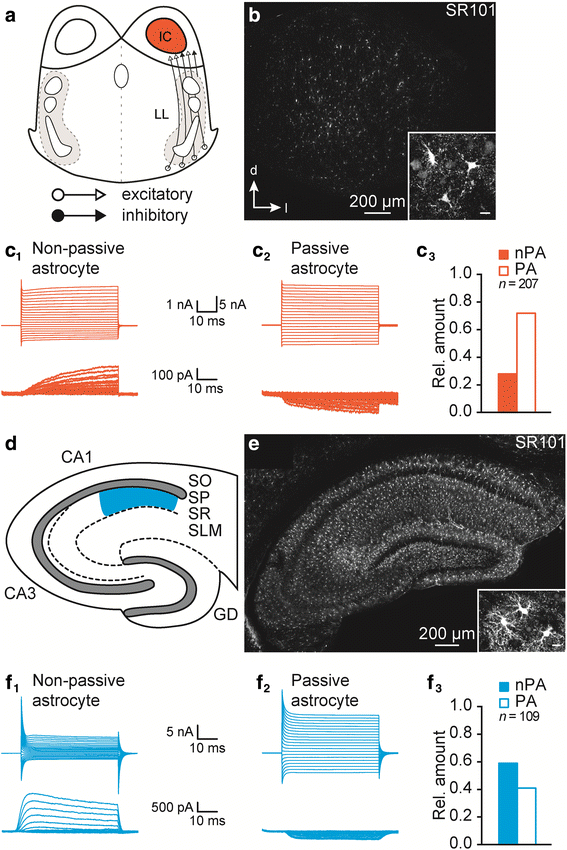 Here we analyzed the heterogeneity of expression and function of inhibitory neurotransmitter transporters in astrocytes from IC and HC. Using whole-cell patch-clamp recordings from sulforhodamine 101 (SR101)-labeled astrocytes [19, 41, 42] and concomitant application of glycine or GABA to provoke transporter activation, together with single-cell reverse transcription (RT)-PCR, our results demonstrate that all IC astrocytes and about half of the HC astrocytes expressed functional GlyT1, GAT-1, and GAT-3. In contrast, GlyT2, GAT-2, and BGT-1 were never found. From our experiments, we can exclude that transporter currents were contaminated by respective ionotropic receptor-mediated currents. As expected, GAT activity was much stronger in HC astrocytes compared to IC astrocytes. Concurrently, our results show that IC and HC astrocytes exhibit heterogeneous properties, which reflect region-specific adaptation to local circuitry.
Discussion
In the present study, we investigated the expression and function of GlyTs and GATs in astrocytes from IC and HC. In both regions, astrocytes generally expressed the three inhibitory neurotransmitter transporters GlyT1, GAT-1 and GAT-3, whereas GlyT2, GAT-2, and BGT-1 were not detected. Remarkably, IC astrocytes exhibited larger IGly (max) and smaller IGABA (max) compared to HC astrocytes. In turn, this resulted in a higher IGABA (max)/IGly (max) ratio in HC astrocytes.
Conclusion
In summary, our results demonstrate the expression of functional GlyT1, GAT-1, and GAT-3 in all IC astrocytes and about half of the HC astrocytes. In both regions the activity of GATs is stronger compared to the activity of GlyTs. Whereas IGly (max) is comparable in both regions, IGABA (max) is much larger in HC astrocytes. Accordingly, the IGABA (max)/IGly (max) ratio is markedly elevated in HC astrocytes. Furthermore, astrocytic GlyTs and GATs in IC as well as HC exhibit slower transporter kinetics in comparison to those transporters in LSO astrocytes, thereby reflecting the regionally differing demands for temporal precision of synaptic transmission. Altogether, our results show that astrocytes do not uniformly express inhibitory neurotransmitter transporters, but region specifically adapt to the requirements of local circuitry.
Abbreviations
AF:

Alexa fluor
E H :

Holding potential
GABAAR:

GABAA receptor
GAT:

GABA transporter
GlyT:

Glycine transporter
HC:

Hippocampus
IC:

Inferior colliculus
I GABA (max) :

Maximal GABA-induced current
I GABA :

GABA-induced current
I Gly (max) :

Maximal glycine-induced current
I Gly :

Glycine-induced current
LSO:

Lateral superior olive
NMDAR:

NMDA receptor
R M :

Membrane resistance
R S :

Series resistance
RT-PCR:

Reverse transcription PCR
SOC:

Superior olivary complex
Declarations
Acknowledgements
We thank Jennifer Winkelhoff and Ayse Maraslioglu for excellent technical assistance.
Funding
This study was supported by the German Research Foundation (DFG Priority Program 1608 "Ultrafast and temporally precise information processing: Normal and dysfunctional hearing", Ste. 2352/2-1), the Nachwuchsring of TU Kaiserslautern, and the University of Milan funding the internship of EG.
Availability of data and materials
Please contact author for data request.
Authors' contributions
JS designed experiments and figures. EG, VA, SLW, JB, and SB performed experiments and analyzed data. GS helped to establish single-cell RT-PCR. JS wrote the manuscript. EG, SLW, SB, JH, and GS contributed to the writing. All authors read and approved the final manuscript.
Ethics approval
Mice were treated in accordance with the German law for conducting animal experiments and the NIH guidelines for the care and use of laboratory animals.
Consent for publication
Not applicable.
Competing interests
The authors declare that they have no competing interests.
Publisher's Note
Springer Nature remains neutral with regard to jurisdictional claims in published maps and institutional affiliations.
Open AccessThis article is distributed under the terms of the Creative Commons Attribution 4.0 International License (http://creativecommons.org/licenses/by/4.0/), which permits unrestricted use, distribution, and reproduction in any medium, provided you give appropriate credit to the original author(s) and the source, provide a link to the Creative Commons license, and indicate if changes were made. The Creative Commons Public Domain Dedication waiver (http://creativecommons.org/publicdomain/zero/1.0/) applies to the data made available in this article, unless otherwise stated.
Authors' Affiliations
(1)
Animal Physiology Group, Department of Biology, University of Kaiserslautern, Kaiserslautern, Germany
(2)
Department of Medical Biotechnology and Translational Medicine, University of Milan, Milan, Italy
(3)
Pharmacology and Brain Pathology Lab, Humanitas Clinical and Research Center, Rozzano, Italy
(4)
Institute of Cellular Neurosciences, Medical Faculty, University of Bonn, Bonn, Germany